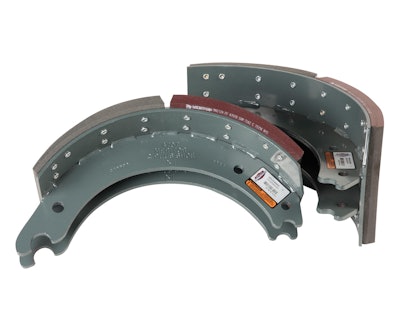 Meritor announced this week at Heavy Duty Aftermarket Week in Las Vegas it has updated the coating for the company's new and remanufactured brake shoes.
PlatinumShield III builds off previous generations, but offers "a new benchmark in adhesion," according to Aaron Bickford, director, brake and wheel end, aftermarket for Meritor.
The third generation of the corrosion protectant centers on a refinement in the shoe preparation and coating process, which Bickford says offers superior adhesion of the PlatinumShield III coating to the brake shoe's metal surface, resulting in a better resistance to corrosion.
"With the new process, the coating protects the brake shoe for a significantly longer period of time on the road, maximizing vehicle uptime and fleet profitability," says Pete Freeman, senior manager, Aftermarket for Meritor.
Since its introduction, Bickford says the PlatinumShield technology has protected more than 25 million new and remanufactured brake shoes.