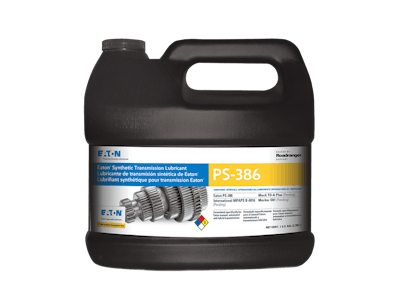 Eaton will begin offering its synthetic lubricants and multi-purpose grease via direct shipping to all commercial trucking industry professionals, including fleets and independent truck operators.
Same day and next day deliveries are also available within the 48 contiguous U.S. states.
Bill Gross, lubricants product manager for Eaton, says the company's traditional OEM dealer customers will also continue to stock the lubricants.
Eaton PS-386 heavy-duty lubricants are available in 1-gallon jugs, 5-gallon pails and 55-gallon drums. Procision transmission PS-278 medium duty fluids are available in 5-gallon pails. EP-2 grease is available in 14-ounce tubes. All lubes are shipped directly from the Eaton Logistics Center in Indianapolis. Purchases must be made online at roadranger.com/rr/buylube with a credit card only, and a tax exempt number is required.
PS-386 and PS-278 was introduced approximately a year ago and is now the standard factory-fill at all North American truck makers.