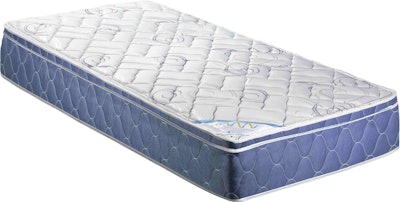 Lippert Components Inc. (LCI) has added a 10 in. Discovery latex foam mattress with combination core to its somnum Sleeper Series mattress line for the commercial tractors. The new mattress was introduced during a press conference Sunday at ATA's Technology & Maintenance Council (TMC) Annual Meeting in Atlanta.
With a focus on optimizing driver satisfaction, LCI says the Discovery mattress was developed from conversations with drivers and fleets. The new product is available in seven sizes, and fits most truck makes and models. Mike Padrnos, business development manager at LCI, says the Discovery product offers major driver retention benefits for fleets striving to reduce turnover rates.
"A comfortable mattress is a relatively small investment to a truck's sleeper. A quality bunk mattress may entice a driver to join your company, stay with your company and might deter them from leaving. It's certainly an important factor for drivers who spend 200+ nights on the road every year," he says.
LCI says the Discovery mattress pairs a thick polymer, spring base core, with a natural latex upper core. The Indura Spring polymer base provides all the support and durability of a steel coil innerspring mattress without the extra weight. The 3 in. natural latex upper core delivers elite cushioning for pressure points like hips and shoulders, which Padrnos says allows for a comfortable and restful night's sleep. Additionally, the Discovery's Euro-top construction comes complete with somnum's premium soft knit cover; and an extra inch of quilted foam is sewn in to the cover for added luxury.
The mattress is dust mite, mildew and mold resistant, and can be flipped to increase longevity.
"We firmly believe drivers deserve a better bed," says Padrnos.