Wabco Sunday at the Technology and Maintenance Council Annual Meeting in Atlanta introduced a connected and intelligent trailer platform.
Collin Shaw Wabco North America director of business development and marketing, said 80% of fleets don't receive any type of telematic information from their trailer and noted Wabco's new platform uses Wabco's Intelligent Anti-Lock Braking System (iABS) to receive, process and distribute trailer health information.
Through iABS, he said the open software architecture trailer platform gives fleets insight into difficult-to-access ABS information, "while also acting as a gateway for Wabco's Intelligent Trailer Program (ITP) and integrations from other partners."
Introduced last year, Wabco's iABS helps optimize trailer control during emergency braking while enabling the activation of ITP features like Lift Axle Control, Door Ajar and Axle Load Monitoring.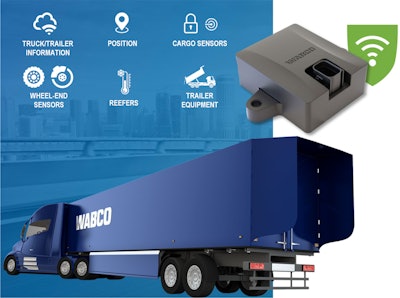 Wabco said it will also launch, mid-this year, its TrailerCAST trailer telematics device – which provides GPS and cellular connectivity to iABS and its associated intelligent features – for North America. Available with and without chargeable battery backup, TrailerCAST can provide a GPS location for trailers across the United States. With its 4G cellular connection, TrailerCAST transmits critical trailer information to Wabco's data cloud. Fleets can access this information in real-time through Noregon's TripVision.
Shaw said he expects that OEMs will make TrailerCAST available for spec, adding it will also be retrofittable.