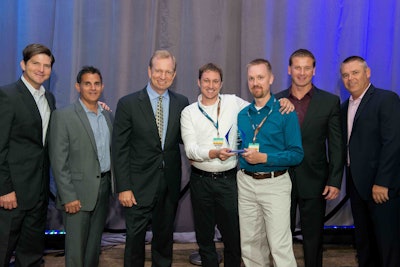 PeopleNet, a Trimble company and provider of fleet mobility technology, announced the recipients of its 2015 Innovator of the Year Awards during its annual user conference, held Aug. 24-26. The awards are presented to fleets in their respective categories that demonstrate leadership in using PeopleNet products and services to create unique solutions that accelerate return on investment (ROI).
Following customer nominations and testimonials, recipients were selected by the PeopleNet Product Advisory Council, a group of customers that meet regularly to provide PeopleNet feedback and guidance on its product development strategy. Awards were presented to the following companies in four categories:
Under 100 Trucks: Star Transport, LLC
A user of PeopleNet technology since 2012, Star Transport, LLC implemented a fuel conservation program that increased miles-per-gallon (MPG) and saved over $250,000 in fuel costs over a one-year period. Additionally, Star Transport worked with PeopleNet to develop a new operator-training program that initiates daily correspondence with drivers, centralizes safety training and simplifies driver scorecard reporting. After introducing these features, Star Transport saw a dramatic improvement in driver retention.
100-500 Trucks: Quickway Carriers
PeopleNet was installed company wide in the summer of 2011 to assist with the Quickway Carriers Idle Reduction Program. A goal to promote continuous improvement was set to reduce long idling from 15 percent to 5 percent, which has been achieved and has subsequently decreased every year since 2012. To access idling time and other driver performance data, Quickway Carriers utilized the PeopleNet Driver Scorecard Report and PerformX Management by Driver Report.
500-Plus Trucks: The Kroger Co.
The Kroger Co. worked with PeopleNet to design a voice portal interface that used the existing email interface from PeopleNet's onboard computers to notify stores of arriving deliveries from its distribution centers. The voice message is triggered when the truck enters the store's preset radius, or "geofence." By using this type of technology innovation, Kroger further improved its truck-receiving process, resulting in a weekly reduction of 1,000 hours in dwell time, or $38,000 per week in cost savings.
Canada: Grimshaw Trucking
Since 2006, Grimshaw Trucking has integrated a wide array of PeopleNet services into its trucking operations, including: eDriver Logs; Onboard Event Recording; Speed Monitoring; Vehicle Management; Dispatch Integration; and Messaging. The PeopleNet BLU.2 device and communication system allows fleet management to maintain two-way communication with its drivers and closely monitor operator behavior to ensure safety standards are met. Through integration with the PeopleNet system for their payroll operations, Grimshaw has decreased their highway driver turnover to 8 percent, which is a 50 percent reduction year-over-year, translating to thousands of dollars in cost savings.