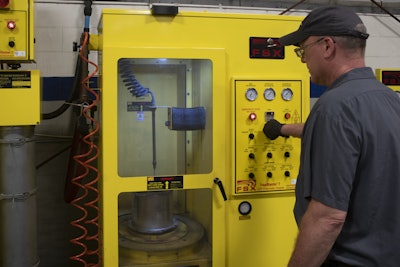 CCJ Innovators profiles carriers and fleets that have found innovative ways to overcome trucking's challenges. If you know a carrier that has displayed innovation, contact CCJ Editor Jason Cannon at jasoncannon@randallreilly.com or 800-633-5953.
Shortly after the turn of the new millennium, maintenance technicians were staring down a new challenge: an exhaust aftertreatment system that only after a few years would be a ubiquitous piece of equipment.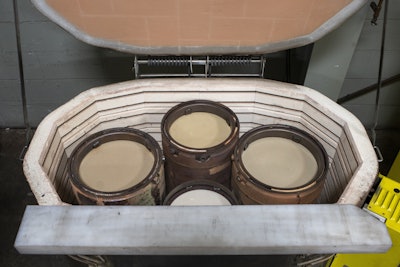 By 2006, Mike Hasinec, vice president of maintenance for Penske Truck Leasing, had begun working with vendors on diesel particulate filter (DPF) parts procurement, foreseeing that anything designed to trap matter would need to be cleaned or replaced eventually.
"The DPF is simply a filter," Hasinec said. "Sometimes in this industry we overcomplicate things and overthink them, but at the end of the day, that's all that DPF does is collect something just like an oil filter or a fuel filter, and it needs to be cleaned periodically or changed."
Downtime is frustrating enough on its own, and adding wait time for a given part just heaps insult on top of injury.
"One of the things we learned is the key to success is having product on the shelf," Hasinec said. Yet fleet maintenance personnel also have to consider the cost of carrying inventory, and DPFs are expensive.
By 2012, Penske's DPF-related expenses began to climb, along with the inefficiencies that came from having to find a local service provider to clean it, or buying a new one, Hasinec said.
Hasinec envisioned an in-house reman program where DPFs would be exchanged during a preventive maintenance (PM) interval. A year later, Penske initiated a proof of concept to see if having DPFs on the shelf would improve productivity.
"One of the reasons our expense had gone through the roof is it became an unplanned event." he said. "The vehicle would come in for a preventive maintenance service [and] we didn't have a DPF on the shelf."
Not having a DPF on-hand, Hasinec said, was largely because many OEMs, who in 2006 said they would eventually have a reman program in place, mostly never developed them.
With customers eager to get their trucks back in service, service technicians didn't have the luxury to down the truck while waiting for a new DPF or waiting for the one we removed to be cleaned. This practice led to "some fairly high failure rates," Hasinec said, "because we weren't replacing them when we should have."
A beta test took place in the shadows of Penske's headquarters in Reading, Pennsylvania, and included 20 facilities where management personally delivered cleaned DPFs to Penske shops according to their PM schedules. The group hit an execution rate of 85% and moved the exchange program forward a year later, now cleaning their own DPFs for the entire Northeast region.
"We had to buy a bunch of brand new DPFs to seed the program, but as we started getting dirty filters in, we learned very quickly that every filter had unique cleaning needs," Hasinec said.
Penske cleaning goes proprietary
The time it takes to clean a DPF can vary depending on the U.S. Environmental Protection Agency's compliance level of the engine, but one unit usually can be blown clean within 10 to 30 minutes if the filter doesn't need to be baked or undergo an ultrasonic aqueous treatment. The baking process takes about 12 hours. A cleaning that requires all three stages could take a day and a half.
Penske purchased the necessary equipment and refined the manner in which the DPF is cleaned, including developing its own aqueous process. Penske identified and follows a proprietary and unique cleaning pattern with nozzles, pressures and distances.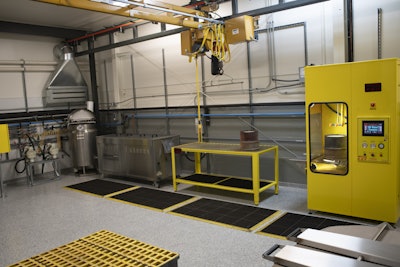 Cleaning a DPF restores some measure of capacity into the filter by removing baked-on particles. However, Hasinec learned that process can be an inexact science with varying degrees of effectiveness across multiple vendors. Working with suppliers, Penske determined available cleaning methods were getting a return capacity of between 20% and 60%.
The wide spread in cleanliness, Hasinec said, often can be tied back to the person in charge of the process — all too often a technician who hasn't been trained properly on the equipment, and the fact that the cleaning process is not their primary job, it's just something they do in between other jobs.
"The technician may be doing a brake job, and his boss says 'Hey, I've got 20 DPFs that need cleaning today,' " he said.
Penske's goal is to clean a DPF only once during the vehicle's six- to seven-year lifecycle, with scheduled exchange intervals based on a variety of attributes. Using maintenance data generated by the trucks deployed across its vast network, Penske is able to predict with a high degree of accuracy when the DPF needs to be exchanged.
"The key is taking it off soon enough," Hasinec said, "but not too soon."
Penske blow-cleans all its dirty DPFs. If that doesn't deliver a return capacity of at least 85%, it will move to a baking process before being reblown. Particularly clogged DPFs get an aqueous solution bath before being baked and then blown.
"Depending on the engine, we see a high success rate with purely blowing them out," Hasinec said. "Our failure rate once it goes through aqueous is almost nonexistent. Aqueous will clean almost anything."
Cleaning centers create 'resident experts'
The demonstration across the Northeast showed a savings of between $300 and $500 per unit, which totaled "millions of dollars" Hasinec said, when factoring for the size of Penske's fleet.
In 2016, the company opened full-time DPF cleaning centers across North America and solved the issue of having busy maintenance technicians clean DPFs by staffing the facilities with employees whose sole job is to receive, clean and ship the units.
"That's all they do all day long," Hasinec said. "They are truly resident experts."
Penske cleaned 34,000 DPFs last year with an average 90% return to capacity — more than 30% better than the best of what the company found on the aftermarket.
The company has three cleaning centers in the United States, opened its first DPF Center in Canada this year, and expects to have cleaned more than 120,000 units by June across its four centers since the inception of doing this in- house. Reading, the largest facility, did about 15,000 cleanings in 2019, Kansas City around 11,000 and another in Reno, Nevada, about 8,000. Expectation for Canada is fairly small, but the new location is expected to clean "a few thousand a year," Hasinec said. The Reading facility can clean, ship and receive 60 units per day.
Penske manages the inventory at each site and can ship a cleaned DPF to any of its 750-plus shops in two days.
"Every morning when our centers open up, they know what locations need which part number," Hasinec said. "We know what they consume, so they don't even have to call. All they have to do is put it on and ship the dirty one back to us."