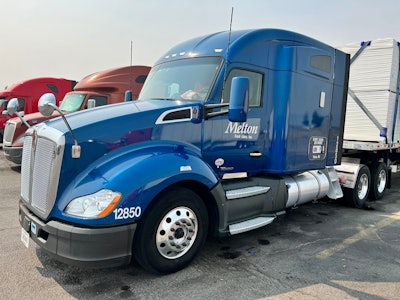 CCJ Innovators profiles carriers and fleets that have found innovative ways to overcome trucking's challenges. If you know a carrier that has displayed innovation, contact CCJ Chief Editor Jason Cannon at [email protected] or 800-633-5953.
Eric Weed hugs a rolled tarpaulin and bends at the knees repeatedly, performing his over-the-road workout routine in a truck stop parking lot. His phone, from a tripod nearby, captures video of his workout with his Melton truck and flatbed trailer in the background as he illustrates his healthy lifestyle as a truck driver.
"The majority of the content I create is fitness and health inspired," Weed said. "I really enjoy creating videos that will bring value to others, whether it's from what to eat, how to work out while over the road or even mindset. I enjoy bringing something to the table that simplifies the process."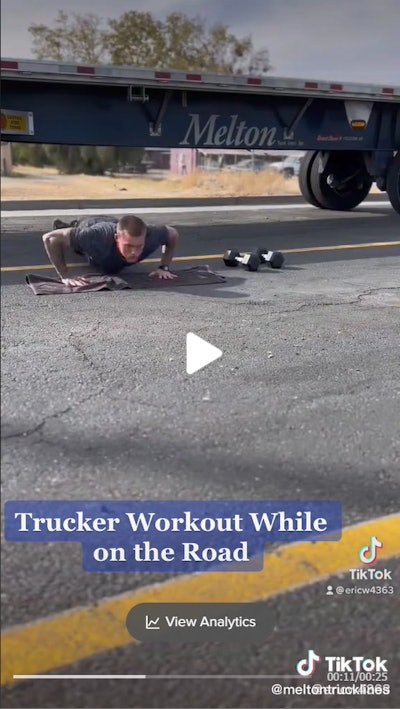 That video is posted to his TikTok account. Weed is a "driver influencer" for Melton Truck Lines.
Other driver influencers include Terrence Small, Chris Womack and LaJames Williams. Small, a road trainer for Melton who showcases a lot of his students' journeys and what they can expect during the road training phase; he also films videos about securement best practices, mistakes to avoid, over-the-road lifestyle advice and more. Womack posts YouTube content about his everyday experiences, from a classic car museum he got to visit over the road, new food he got to try, securement tips and even productivity/miles advice. Williams posts primarily on TikTok and showcases a wide range of OTR lifestyle topics, from walkthrough videos of his meals over the road to a behind-the-scenes look at load processes.
Melton launched its new driver influencer program earlier this year as a new-age method of word-of-mouth advertising, said Kennedy Ruley, digital marketing manager at the Tulsa, Oklahoma-based flatbed trucking company. She said word-of-mouth advertising, which has consistently been one of Melton's top 10 hiring sources, trumps all when it comes to effectively communicating a message, especially in the trucking industry as drivers meet on the road at truck stops across America. But with the pandemic limiting in-person contact, and that becoming more of the norm post pandemic, her team realized the traditional method of referrals was diminishing.
She said her team also recognized that much of their own buying and conversion habits on social media resulted because of influencer marketing.
"With influencer marketing being such a popular and effective concept, it was surprising to realize much of this method of advertising had not been formally implemented in our industry's fleets," Ruley said. "While drivers have always created social media content and spoken about their experiences online, we identified that promoting this as a career path for drivers and incentivizing them would cultivate their content creation even further, thus increasing Melton's online presence and referrals received and expanding our options for drivers in their careers."
Crafting a new career path
Melton has multiple career path opportunities for its drivers, from its Road Training and Melton Mentors programs to its Road Recruiters and Road Dawgs (drivers visiting CDL schools, and more to supplement their driving role and expand in their skills) programs.
The influencers program, in which drivers create and share videos about their experience as a truck driver at Melton, is now one of these opportunities – all of which provide drivers additional compensation.
Melton has members of its staff dedicated to the program. Social Media Coordinator Emily Bump manages the program, and a recruiter assists in calling drivers who may be a good fit.
Ruley said the program, so far, has had up to nine driver influencers and currently has four with three onboarding and working toward meeting the minimum requirements, but the company is focused on scaling it to an indefinite number at this time. With the current headcount, she said Melton drivers altogether are posting between 20 and 25 videos each month with a total since April upwards of 100.
The number of videos each driver influencer produces each month varies, but each is required to post at least one video a week, or four per month, to their preferred platform; Facebook, TikTok, YouTube, etc.
"By far the most effective platforms have been TikTok and YouTube. With our online branding, it's not enough anymore to post out any type of video content and hope it performs well. We take a much more data-driven approach to our video content these days, particularly thinking more about the type of video, specific message it entails, what platform it's on, and who is delivering it. That's how this program was formed, and that's why I think these two platforms are our most successful," Ruley said. "TikTok is our fastest-growing platform, and there's so much opportunity in that space. It has been neat to witness a trucking community form in that space and exciting for us to accelerate our growth on there with influencer videos as ads and repurposing as main videos on our page."
Driver influencers are given guidance on best practices for each platform. For instance, TikTok videos should be short, shot vertically, have compelling audio and offer short-form content. But they can choose the type of content they post – workouts, cooking in the truck, trucking life hacks, their training experience, etc. – excluding any extremely negative conversations, vulgar language, safety concerns, etc.
Drivers must mention Melton in their video but aren't required to use Melton as a hashtag, tagline or in their profile name.
"We want this to be as authentic as possible, and requiring those things may come across as an overly orchestrated effort on our part," Ruley said. "Their story is theirs to tell, and we're very open to them sharing that online. Our goal is for them to share their authentic experience, which includes the good, the bad and the ugly – all within reason."
The accounts are their own; Melton simply monitors them for new content.
Ruley said Melton monitors its driver influencers' video postings using a brand listening tool. The company doesn't require drivers to share their engagement stats, but it does watch the number of views/engagements separately.
It also uses a social media management tool to track analytics in real-time. Ruley said using social post data by platform and by tagged subject assists the team in curating a more effective social strategy, which helps the digital marketing team communicate content suggestions or best-performing topics to its influencers if needed.
Engagement equals compensation
Melton obtains permission from its driver influencers to use their videos on its own social platforms, mainly as advertising creative on Facebook and TikTok, Ruley said. Using TikTok Spark Ads, Melton promotes their videos using Melton advertising dollars.
That helps driver influencers gain more views and better engagement, which they are compensated for.
Ruley said they are incentivized based on their minimum video production requirement, and they can earn additional money if they meet certain engagement goals based on what Melton's team has found converts better on certain platforms. Engagement goals are subject to change, but she said they are based on Melton's overall average engagement per conversion on each social media platform the company operates on.
"One example is if the driver obtains 5,000-plus views on their TikTok video, that meets the qualifications for earning an additional $25 that month," she said. "We know that videos with that amount or more views on TikTok are likely to return a lead/conversion and are also valuable ad creative for us."
For now, those additional earnings are distributed in gift cards when driver influencers reach monthly goals.
In general, some influencers earn money from the platforms they post to on the content they produce. Ruley said how Melton's influencers monetize their own profiles is completely up to them. Additionally, some influencers partner with companies on sponsored content. If a third-party reached out to a driver and wanted them to be a brand ambassador, Ruley said Melton would view it from the lens of potential drivers viewing that content and whether that brand aligns with Melton's values.
In addition to those opportunities and compensation based on engagement goals, driver influencers also earn referral bonuses if a driver is hired as a result of viewing one of their videos or via their profile application links.
Weed said the majority of engagements with his videos comes from people in the 18 to 34 age group. Weed and Williams have 290 and 376 TikTok followers, respectively. Womack has 318 YouTube subscribers, and Small boasts over 8,000 subscribers.
"I've gotten many comments, questions and interest because of the content," he said. "As far as I know, we have one person starting in January that I've connected with from social media. I also have a couple of people who have applied after seeing the lifestyle."
Video attracts recruits
Lindsey Trent, co-founder and president of the Next Generation in Trucking Association, recently said in a Truckload Carriers Association webinar focused on recruiting younger people to the driver workforce that the average Gen Z-er watches three hours or more of videos daily.
"For us as an industry to listen to that statistic and to only have one or two videos on our website, I don't think that's going to do the trick. I think we need to be more video focused," Trent said. "I love the idea of having a video ambassador for your company that can share what they're doing on a day-to-day basis."
Misunderstanding of the trucker lifestyle – often seen as unhealthy, which is mostly accurate – is a major barrier of entry for younger generations to enter the driver workforce. But they are desperately needed with a massive driver shortage at hand and a continual march of baby boomers to the line of retirement.
Melton, which was recognized as a CCJ innovator in 2014 for its efforts to improve driver health and wellness, is proving that stereotype wrong with videos from driver influencers like Weed, who is regularly active over the road as seen on TikTok.
Not only are videos like his helping bring new drivers on board, it's helping retain drivers as well.
Weed said this program shows the investment that the company places in its employees.
"I think this program really creates a positive impact around trucking. It shows others that it is possible; you can change your life; you can become healthier; you can go travel the world; you can blaze a new path and try something new. I enjoy this program because it really shows what life can be like over the road as a flatbed driver for Melton," he said. "It's empowering to be a part of, and I really do think we've got something special here at Melton. There are many reasons I stay at Melton, but this (influencer program) is definitely in the top five."
Since the launch of its driver influencer program, Ruley said Melton has seen an increase in online referrals.
She said it is important to note that Melton's referral program involves several moving pieces, from its recruiting and field recruiting teams, and the influencers program is only one part of that.
"However, we did see a dip in our average app-to-hire ratio from referral leads after launching this program in March to April of this year. We average less than 10 referral leads to one hire through our referral program efforts. We achieved our lowest app-to-hire ratio month in May of this year at a 4-to-1 ratio," she said. "Given our time to hire, this was a great indication that the influencers program was a great value add in the months of March and April and is an effective supplement to our current referral program efforts."
She said Melton realizes there has been a shift into more of a social media age of referrals, and the company has seen a lot more referrals come exclusively from online videos that its drivers post. Drivers use a personalized link for referrals so Melton can track them.
On the other side of the videos helping with recruitment, they keep existing Melton drivers interested and challenged in their careers, improving retention.
"Our purpose for the influencers program is to provide a growing, interesting career path option for drivers that allows them to earn additional compensation through the monthly payout plus referral bonuses earned," Ruley said. "In turn, Melton's online brand is amplified by their voice and real-world experience. It's incredibly authentic and transparent content that we hope to only expand upon moving forward."
The CCJ Innovators program is brought to you by Comdata, Freightliner Trucks, Omnitracs and Valvoline.