CCJ Innovators profiles carriers and fleets that have found innovative ways to overcome trucking's challenges. If you know a carrier that has displayed innovation, contact CCJ Chief Editor Jason Cannon at jasoncannon@randallreilly.com or 800-633-5953.
Aim Transportation Solutions in 2018 created a software system it called RescuePro to help manage equipment breakdowns. When a driver calls into the company's Road Rescue team, RescuePro documents the process.
The person who takes the call asks the driver for certain information, such as their name, unit number and location of next stop, and any other requirements the customer may have and all that funnels to Road Rescue for a work order and service.
RescuePro over the past 5 years has become the basis of Aim's entire Road Rescue operation, and over that time the makeup of Aim's customer base changed. Transportation became more culturally diverse, and a new generation of customers gravitated away from picking up the phone to make calls.
"We used to have stickers on our visors, and you'd flip it down and there'd be an 800 number," recalled Aim Chief Information Officer and Vice President of Information Technology John Reed. "That was the old days."
The company is now rolling out a bolt-on feature with Navigator, Aim's mobile app, enabling drivers to communicate with the Road Rescue team through the app via text.
"The younger drivers, they don't want to talk to anybody, or they want to talk as little as possible," said Aim Transportation Solutions Vice President of Software Development Dan Kellgren. "They want to do it all on their phone. It actually opens up a texting conversation automatically. It sends our people a link to our internal portal, and it has a texting interface that we use, and we can have text conversations. So, right at their keyboards on the web through our portal, they're texting out to the driver on their phones. A lot of times they don't even have to talk to the drivers. They can just say, 'Hey, I see you got a blown front left tire.'"
The street corner payphone has been replaced by a pocket-sized mobile computer, and Aim's 1-800 number on the visor now also features a QR code that directs drivers to the appropriate app store (iOS or Android). Rather than dialing a number and navigating a phone tree, text-based users are immediately placed in the Road Rescue queue, Kellgren said, adding the average time to response thus far has been 120 seconds or less.
Multi-cultural communication tool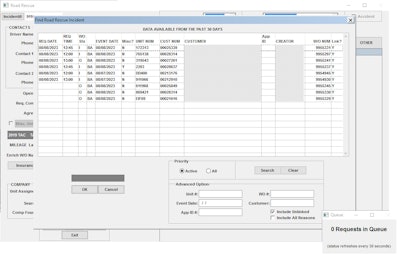 Person-to-person communication is challenging when not everyone speaks the same language. With a customer base as large and diverse as Aim's, RescuePro was designed to interface with Google Translate for non-English speaking customers.
"For example, for our Spanish speaking drivers, if their phone is in Spanish mode, they can actually communicate with our Road Rescue team in their native language. Google's translating it back to English for our people. They're typing in English, it's translating it back to Spanish for the driver," Kellgren said. "We can do Russian, French, Serbian, a couple other languages that we're starting to add on."
The feature has been handy where cultural diversity tends to bloom in specific areas where the number of non-native English-speaking customers is significant.
"The problem that we've had to solve is there's more and more communication barriers out there," Reed said, noting one specific example is in Chicago, where there is a large Serbian truck driver population, "and when one of them has a breakdown we were struggling to get them the help they needed, and we often weren't understanding the details of the problem. Because of this Serbian is the next language that we're targeting for our next roll out. With the translation portion, that issue is a thing of the past and we can get our Serbian friends back on the road quicker."
Outside the communication component, Kellgren said the entire app functions in the user's native language, "so all the field labels, all the texts that we have, warnings that pop up or directional things that pop up, are all in their native language because we're picking that up on the phone," he said.
Like air traffic control for the road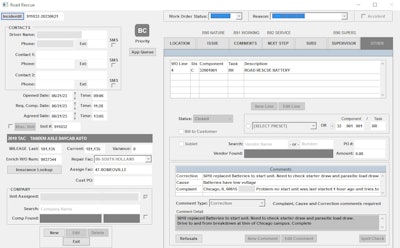 RescuePro manages all the inbound and outbound communication traffic for Aim, helping the company keep it all in one place and organized which Reed said expedites solutions.
"When there's an ice storm across the country, for example, our Road Rescue people are going nuts and this tool keeps everything prioritized, but it also allows them now to give updates without having to get a call, call the [service] vendor, have the vendor call us back, then call the driver and say, 'The vendor now says 45 minutes.'"
Having a central point of communication allows Aim to communicate with the driver and provide real-time updates on the status of their case without phone calls between multiple parties.
"Well, there's an ice storm. So, then the vendor's not there in 45 minutes. So, then they make a call, 'Where's the vendor at?' All of this back and forth to the driver is now gone. Now it's just an update on your app," Reed said. "You'll see that it was 45 minutes and just like a flight delay that's what they tell you at first. And then you find out it's really not leaving for another hour. You would get all those things right through the app or right through the text. It's really been a big home run for us."
Leaving a bread trail of communication, Kellgren said, also helps ensure that issues don't fall between the cracks over a shift change at Aim, and it delivers an added layer of accountability.
"The real power for us on this is if we have one of our road rescue people working a case and they end their shift and leave, the next person coming in can immediately pick up right where they left off. They see the entire conversation. It's seamless to the driver. They don't even necessarily need to know that they're working with another person," he said. "And then the road rescue supervisors at any time can go in and see, 'Hey, what's going on with that case? Let me go and look at the conversation going on between them and make sure this is moving along. Why has that been sitting for four hours, and I haven't seen any activity on it?' There's a lot of back office-type power that having just this text interface gives us."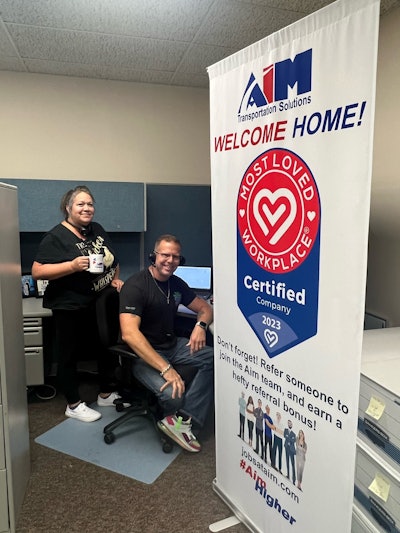 "All of our customers really love the documentation they get because there's always questions," Reed added. "Breakdowns inevitably have questions, and here's basically a transcript of everything that happened."
That so much of the data is populated by the driver, or already pre-populated based on what Aim knows about the user, Kellgren said this new generation RoadPro slashes input errors.
"It is that efficiency of accuracy of data," he said. "Whatever they're sending us is what immediately is getting input into our RescuePro system. We don't have those translation issues at all; or the driver has got a bad cell connection and it's hard to hear them; or they're hearing what he's saying wrong and they're not putting in the appropriate information. This puts it all on the driver rather than our staff."
Reed noted that Aim records all Road Rescue calls for quality assurance, and often when the company is challenged by the customer on why any given repair is taking so long, he said they look to the recording to discover that some times inaccurate information was provided.
Reed noted the app is a complementary alternative to users who prefer not to dial a number, and that he expects it to become even more popular as time rolls on.
"The goal is to give them as many tools as possible," he said. "As the driver workforce gets younger, they're going to want more of this. AAA (American Automobile Association ) is a great example. If you use AAA and you break down on the road, you can call or you can use the app."
"And the app's a way better experience," Kellgren interjected.
The CCJ Innovators program is brought to you by Bendix, Comdata, Freightliner Trucks, SkyBitz and Valvoline.