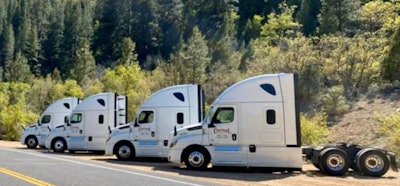 Matthew Massie recalls his first day on the job driving for the Central Freight Lines, at the time, a major Texas LTL carrier. It was 1999. He was 21 years old and had a newly minted CDL
He said he climbed into the cab of a 1979 Freightliner with no power steering, hitched to a 57-foot trailer and was sent to make local deliveries around Fort Worth, Texas.
"My arms were definitely sore after that," said Massie, now 44 and living in Joshua, Texas, working as a counselor for a program helping homeless men.
Massie went on to spend 15 years as a driver for the Waco, Texas-based carrier, and four more years in management for the company, which confirmed over the weekend it was shutting down because of ongoing money problems. Massie said he was "a little surprised" by the news that the 95-year-old LTL company was ceasing operations and putting 1,325 drivers on the street, but added he was "not shocked" as there had been signs of financial instability in the past.
The company, which has over 1,600 power units and 76 terminals serving customers in the Southwest and Southeast, said it planned what it called a "safe and orderly wind-down" after being unable to secure funding to continue operations. The company said it would stop picking up freight today and will make final deliveries by Dec. 20. "We will continue to deliver the freight we have in our system," the company posted to its website.
Massie's departure from the company was prompted by its money problems. He said financial pressures forced the company to reduce insurance benefits, leaving employees like him with large medical bills he could ill-afford.
"I had no option but to leave," Massie said. "It's really disheartening. I have a lot of great memories from working there. I learned so much. I really became a man while there. I know I wouldn't be where I am today if I hadn't worked there."
Central Freight was was one of just a few large trucking-related companies to receive the maximum available $10 million in COVID-19-related federal Paycheck Protection Program funding in 2020. That government loan was forgiven.
Company President Bruce Kalem told The Wall Street Journal that Central Freight had $262 million in revenue during its latest fiscal year, but added, "The company has been hemorrhaging cash and had operating losses for many years."
Via release, Kalem said his company explored all available options to keep operations going. "However, operating losses sapped all remaining sources of liquidity, and the company's liabilities far exceed its assets, all of which are subject to liens in favor of multiple creditors," he said. "Despite diligent efforts, the company was unable to gain commitments to fund ongoing operations, find a buyer of the entire business or fund a Chapter 11 reorganization."
Kalem added that Central Freight is in negotiations to sell a substantial portion of its equipment.
The closing of Central Freight Lines is the largest trucking industry failure since truckload carrier Celadon Group Inc. filed for Chapter 11 bankruptcy protection in 2019.
Central Freight was owned by Jerry Moyes, a co-founder of Swift Transportation, and was ranked No. 79 on Truckers News and Overdrive sister publication Commercial Carrier Journal's Top 250 list of for-hire carriers.
Emails sent to the company Monday seeking further comment bounced back undeliverable.
Drivers surprised, left wondering
News of the 96-year-old company's plans to close filtered to its driver pool haphazardly, with many finding out first via social media.
Aaron Pipkin, who was running a local pickup and delivery route from Fort Worth for the carrier, said he was off duty this weekend and supposed to report back to the carrier Tuesday, and was told of his impending layoff by his wife.
"She was on social media and said, 'It looks like Central Freight is shutting down,'" he said, adding that he planned to finish out the week with the fleet and handle any final deliveries.
Pipken, who called the carrier over the weekend to confirm the Facebook post was true, said he received a formal call from the fleet on Monday, but only asking "if I'd heard the news."
In many cases, speculation begins to swirl before a company goes bankrupt or ahead of a major shakeup, but Pipken said there were no such rumors or discussion at Central Freight.
"None of us had any idea," he said. "Me and some of the other drivers were talking just the other day about the future – about how business might pick up some after the holidays."
In hindsight, Pipkin – who joined the company just four months ago – said signs of the company's financial struggles were obvious.
"You could tell by the condition of the terminal and how often they fixed their trucks," he said. "It was like, 'Do you guys not have the money to make these repairs?' It's just in the back of your mind, 'Why does everything look like it's falling apart?'"
Kalem said his company is coordinating with other regional LTL carriers to afford its employees opportunities to apply for other LTL jobs in their area. If there's a bright spot for Pipken and his soon-to-be former co-workers, it's that they enter a job market starving for drivers. Pipken said he's already received several emails and outreach for interviews.