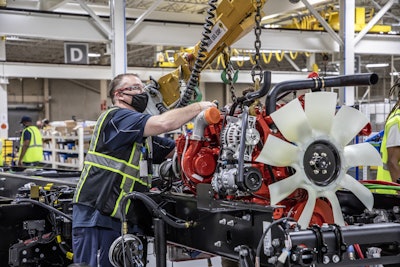 There's no end in sight for a work stoppage at Mack Trucks' assembly sites in three states as both sides failed to reach an agreement this week and no additional discussions have been scheduled.
Mack Trucks and United Auto Workers (UAW) negotiators reached tentative agreements this week on the four local agreements that were not ratified by UAW members Oct. 8, yet both sides remain at odds over economic demands at the master contract level that, Mack said via statement Thursday night, "continue to be unrealistic."
Per the terms of the tentative agreement the average wage increase over five years would be 36%, with an average immediate wage increase for all covered employees of nearly 15%. For employees not yet at the top rate (nearly half the total workforce) the average increase over five years would be 55%, and the average immediate wage increase would be more than 20%. Most employees already at the top rate would receive an immediate wage increase of 10%, and up to 20% compounded over five years, even though company research shows that these employees are already above market rates, Mack Trucks said.
Premiums for the company's healthcare coverage, which have not increased in more than six years despite a 66% increase in the company's costs over the last decade, according to Mack Trucks, would remain unchanged for five more years.
The union continues to seek wage increases, holiday schedules, seniority, retirement and benefits, among other concessions.
Mack Trucks said Thursday night it stands by the economic terms of its Oct. 1 tentative agreement with the union, which UAW leadership endorsed and called a "record" contract for the heavy truck industry. Mack Trucks seemingly side-stepped a strike Oct. 1, reaching a tentative agreement with the UAW that its membership – 3,900 employees – ultimately shot down by 73%. Those workers went on strike a week later at Mack facilities in Pennsylvania, Maryland and Florida.
A lengthy labor stalemate has implications beyond just Mack Trucks. Mack's facility in Hagerstown, Maryland, also assembles powertrain components for sister-company Volvo Trucks.
This isn't Volvo Group's first tangle with UAW labor stoppages. Six UAW chapters representing more than 3,500 Mack Trucks employees at five of the company's plants went on strike in 2019 for almost two weeks. Volvo Trucks North America endured a UAW work stoppage in 2021 that dragged on for more than a month.