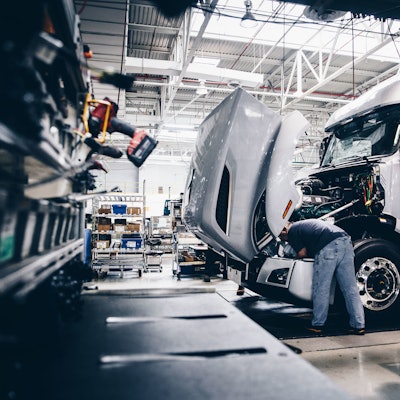 Volvo Trucks North America said Sunday it will resume truck production at its New River Valley (NRV) plant in Dublin, Virginia, even though a majority of its workforce remains on a labor strike. 
United Auto Workers (UAW) Local 2069 members rejected for the third time a new labor agreement Friday evening, extending a strike at NRV that has dragged on for five weeks.
After reaching another impasse Sunday with UAW negotiators, Volvo said effective Monday, July 12, the company will implement the terms and conditions of the most recent tentative agreement, which was endorsed by UAW leaders July 1 but rejected by local members Friday. Even though the strike will formally continue, any employees returning to work July 12 or thereafter, Volvo said, will receive the wage increases and benefits outlined in the July 1 agreement, except for the ratification bonuses, which would be paid upon contract ratification.
Local 2069 President Matt Blondino penned a letter Sunday "asking all members to not cross the picket line."
Brian Rothenberg, UAW International director of public relations, said the union is "evaluating the company's position and evaluating our legal options," adding that another ratification vote is scheduled Wednesday for the bargaining unit members on the company's "last, best and final offer."
"We need to safeguard our future, and start building trucks for the many customers and dealers whose businesses and livelihoods depend on our products," said NRV Vice President and General Manager Franky Marchand. "Our last offer delivered significant wage gains and first-class benefits for our employees, and 40% of UAW voters supported it."
The most recent deal received by far the most support at the local level but was still soundly defeated. Hourly language was shot down 60% to 40%, common language 60% to 40% and salary language 67% to 33%. Two prior tentative agreements were shot down with only about 20% support. 
Volvo's NRV plant employs more than 3,300 people, about 2,900 of whom are UAW members. During the strike, Volvo Senior Vice President of Communications John Mies said workers that remained on the job had been "completing trucks that were in process, but we have not been in full production."
The Volvo Group is the only heavy-duty truck manufacturing group that assembles all of its trucks and engines for the North American market in the United States.
The plant is in the midst of a $400 million investment for advanced technology upgrades, site expansion and preparation for future products, including the VNR Electric truck. The plant has added 1,100 jobs since the current union agreement was implemented in 2016 and is on track to have a net increase of approximately 600 positions this year. 
Contract negotiations between UAW and Volvo started Feb. 8. UAW Local 2069 workers went on strike Saturday, April 17, following the lapse of a 30-day extension to a five-year contract that expired March 15. The union strike ended April 30 after a two-week work stoppage when the parties reached a tentative agreement on a new five-year deal, but local members ultimately rejected the proposal.
Local 2069 members rejected a subsequent six-year labor agreement June 6 and returned to strike the following day.