Trucking news and briefs for Monday, July 26, 2021:
ACT's For-Hire Trucking Index dips, but metrics remain strong
The latest release of ACT's For-Hire Trucking Index, with June data, showed volumes slowing, pricing moderating at a high level, and a still-strong supply-demand balance.
Even though freight volumes declined, Carter Vieth, a research associate with ACT, said volumes remain at a healthy level following an upwardly revised May.
"And with continuing lean U.S. inventories, durable goods orders rising to record levels, and consumers enjoying record wealth and savings, the fundamentals of the freight cycle remain clearly positive," he added.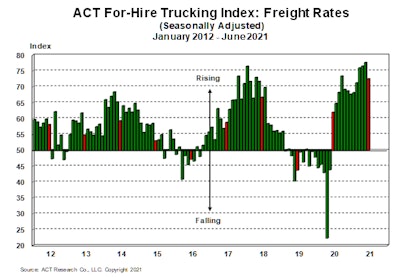 Vieth also noted that ACT's For-Hire Pricing Index moderated at a high level, ending a six-month run of consecutive increases. Despite the leveling off, June's pricing reading was still the eighth best since the survey began in June 2009.
"Developments in the driver market and freight volumes will be key to the near-term rate outlook," he said. "While spot rates may come under pressure from driver re-entry, underlying equipment capacity tightness supports a positive contract rate outlook."
FMCSA finalizes requirement for all-electronic CDL info exchange
Just a week after the Department of Transportation Office of Inspector General called on the Federal Motor Carrier Safety Administration to boost its CDL oversight, the agency is finalizing a rule that requires states to implement fully electronic transmission of driver history record information through the CDL Information System, including the posting of convictions, withdrawals, and disqualifications.
The final rule, published in the Federal Register Friday, July 23, and effective Aug. 23, requires states to have the electronic systems in place no later than Aug. 22, 2024.
"While all states currently have the technical capability to transmit the DHR information through CDLIS, some [state driver's license agencies] are unable to do so when the driver information (e.g., driver's CDL number, date of birth, or state of record), required for CDLIS to validate and accept the electronic record, is incorrect or missing," FMCSA said in the final rule. "Under those circumstances, states must rely on alternative methods of transmission, such as the U.S. mail."
FMCSA believes the three-year grace period gives states enough time to overcome these hurdles to fully implement the electronic systems.
Truck driver charged with smuggling 115 immigrants in trailer
A 43-year-old resident of Rosharon, Texas, is alleged to have attempted to smuggle dozens of undocumented non-citizens, according to Acting U.S. Attorney Jennifer B. Lowery.
According to the charges, Michael Warren Mccoy was stopped on U.S. Highway 59 approximately eight miles east of Laredo.
Law enforcement reported conducting a traffic stop on the truck bearing Texas license plates due to a failure to drive in a single lane. At that time, they cut the seal on the trailer doors and discovered a total of 115 undocumented individuals, according to the charges.
The complaint alleges Mccoy expected to be paid $250 for the transport, and that he'd made three previous, similar trips.
If convicted, Mccoy faces up to 10 years in federal prison and a possible $250,000 maximum fine.