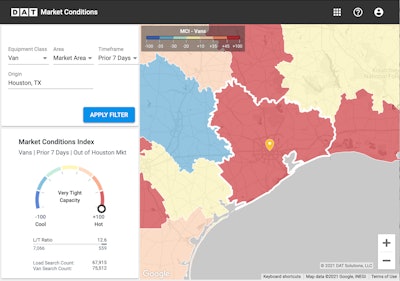 The number of spot loads moved on DAT's Top 100 van lanes increased 20% last week compared to the previous week, as volumes returned to pre-Thanksgiving levels.
Nationally, the spot van rate averaged $2.99 a mile, nearly unchanged week-over-week, according to DAT RateView. The average rate was higher on 32 of those Top 100 van lanes, down on 41 lanes and neutral on 37. The national average van load-to-truck ratio slid from 7.9 to 5.4 as more capacity came onto the market.
The number of loads moved on DAT's 72 busiest reefer lanes increased by 2.8% last week, but load post volumes dropped in each of DAT's 10 largest reefer markets and was down 18% overall. The national average load-to-truck ratio was 9, down from 14 the previous week, and rates sagged. The spot reefer rate averaged $3.49 a mile last week, down 9 cents since the week before Thanksgiving.
The number of loads moved on DAT's 78 busiest flatbed lanes increased by 2% last week, but the number of loads moved on the network overall is now down 13% in the last four weeks despite the late season surge in flatbed activity due to unseasonably warm weather. The national average load-to-truck ratio dipped 4 points from 48 to 44. It was 36 at this time last year, and 15.4 at this time in 2018. The national average spot flatbed rate was $3.04 a mile, the same as the November average.
Lanes to watch
Trade through Port Houston was up 31% during the first 10 months of the year compared to the same period last year. In terms of imports, Houston was been a beneficiary of container traffic routed away from the West Coast and is a good place to find freight right now. Key inbound containerized commodities include hardware and construction materials, appliances, electronics and furniture.
The U.S. Army Corps of Engineers ranked the Houston Ship Channel No. 1 in total tonnage in the U.S. The channel handled more than 275 million short tons of cargo during 2020, exceeding the next largest port by more than 50 million tons.
Last week outbound van load posts increased 5%, and Houston was the only one of DAT's Top 10 markets for van freight where load-post volumes increased compared to the previous week. The van load-to-truck ratio in Houston is 12.6 over the last seven days, and the average outbound rate was $2.38 a mile – up a penny. The most active outbound lane was Houston to Atlanta – an 800-mile haul averaging $3.13 a mile over the last week, up 7 cents over the November average.