Trucking news and briefs for Wednesday, March 29, 2023:
ACT: Freight downcycle closer to end than beginning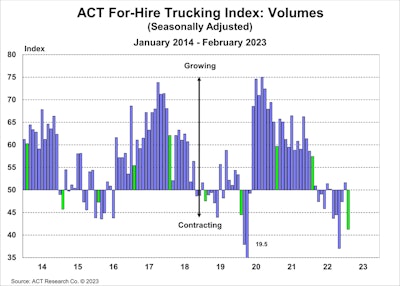 Freight volumes and rates declined in February, but the freight downcycle is closer to the end than the beginning, according to the latest release of ACT Research's For-Hire Trucking Index.
Rate trends should begin to recover as soon as traction on freight volumes is established, ACT said, and slower capacity growth this month is a hopeful sign the bottoming process is closer, as fleets begin to respond to softer market conditions.
ACT's Trucking Volume Index was in contraction territory for the eighth month of the past 11 in February at 41.3 (seasonally adjusted) from 51.6 in January. Volumes remained soft amidst a market of mixed economic signals, ACT noted.
"The soft freight market persists as inflation continues to impact consumers' purchasing power, and recent bank failures and job cuts make recession more likely," said Tim Denoyer, vice president and senior analyst at ACT Research.
Pricing Index weakness continues, decreasing 6.3 points, to 39.3 in February (SA) from 45.6 in January. This is only the fourth time in the index's history that prices have been in the thirties.
"The cure for low prices is low prices, and we currently estimate spot rates are 16% below fleet operating costs, which should expedite this bottoming process," Denoyer added. "Even as freight demand fundamentals will likely remain soft, seasonal increases in TL volumes as capacity slows and eventually tightens will build the bottom of the spot rate cycle in the next couple of months."
ACT's Capacity Index declined by 3.7 points month over month to 51.0 in February, indicating slower growth. Capacity has improved in terms of both equipment and drivers the past year, with improvements in the supply chain and as drivers have shifted to larger, well-capitalized fleets after the sharp fall in spot rates. ACT said slower capacity growth this month is a key sign the bottoming process is happening, as fleets begin to respond to softer market conditions.
After rallying in January, the Supply-Demand Balance reverted looser, falling to 40.1 (SA) in February from 47.0 in January, with the month-over-month declines in both volumes and capacity.
"The trucking market has been loose for a full year based on this series," Denoyer concluded. "Though the loose environment is expected to persist in the near term, we expect less loosening from here."
Teamsters, ABF start work on new deal
The Teamsters National Freight Industry Negotiating Committee (TNFINC) said it met with ABF Freight (CCJ Top 250, No. 18) this week in Arlington, Virginia, to begin negotiations for a new national contract for more than 8,000 members at the company.
The current national agreement expires June 30.
"We will demand everything our members deserve at the table," said Teamsters National Freight Director John A. Murphy. "Our committee has reviewed hundreds of issues based on thousands of responses from our members at ABF. Their input has been crucial to our contract proposals and ensuring that our members' voices come first in these negotiations."
The negotiating committee is made up of leaders from around the country as well as rank-and-file members committed to securing a strong new agreement.
Shippers' conditions declined in January
FTR's Shippers Conditions Index (SCI) fell in January to a reading of 5.4 from the December 10.3.
December's SCI had reflected robust market conditions for shippers, which softened a bit in January as looser capacity was the only factor more favorable month over month. The January SCI, exclusive of the December reading, was still the strongest since May 2020. The SCI is forecast to remain stable into 2024.
"The Shippers Conditions Index is likely to hold firm unless overall economic conditions deteriorate significantly from present levels," said Todd Tranausky, vice president of rail and intermodal at FTR. "Looser truckload capacity, slowing imports and improving rail service should all support stable to improving shippers' conditions through the balance of the year."
The Shippers Conditions Index tracks the changes representing four major conditions in the U.S. full-load freight market: freight demand, freight rates, fleet capacity, and fuel price. The individual metrics are combined into a single index that tracks the market conditions that influence the shippers' freight transport environment.
Chipman Relocation announces new leadership
Chipman Relocation & Logistics, a full-service moving, storage and logistics company, has announced the transition of the Chipman organization to its third generation.
Justin Chipman, who has been serving as the President & Chairman of the Board since 2015, has been named Chief Executive Officer. Under his leadership, the company said it will continue to strategically position its core focus and drive the organizational core values, which are designed to promote a better customer experience, drive growth, and to be the employer of choice in the industry.
John Chipman Jr. will continue his role as Executive Vice President, a position he has held since 2018. He will continue to lead and guide the organization in areas of legal, risk, and organizational representation within UniGroup and in the industry. As the Senior Chairman of the California Moving & Storage Association, he is interested in advocating for improvement in the moving and storage industry.
Chipman Relocation & Logistics was founded in 1939 with full-service facilities in San Diego, Los Angeles, San Francisco, Napa, Sacramento, Portland, and Seattle.
Shell company Lelantos looks to enter trucking with truck purchase
Lelantos Holdings recently announced that it has acquired 15 trucks as part of the company's four-step approach to entering into the shipping and logistics business.
The completion of this initial asset purchase will provide Lelantos with a cash-flowing business model that is intended to complement its current energy division, as well as deliver an increased asset valuation, the company said. Lelantos has also submitted its supplemental nonshell report with OTC Markets with the intent to remove the Company's "Shell" designation.
The initial assets were acquired from TK Zarro LLC. All assets initially acquired hold an approximate total valuation of $1,144,730 million.
The additional three phases of the company's plan to enter the shipping and logistics business include acquiring 18 tractor-trailers, a full freight brokerage business and a fuel program business from the seller.
"We are excited to add additional assets to our company, propel past the shell status and provide value to both the company and shareholders," said CEO Nathan Puente. "This, along with the acquisition of Lelantos Energy and the many projects under development, will help cement our future growth and achieve our goals of being an established and profitable company."