Trucking news and briefs for Wednesday, March 22, 2023:
Conditions for carriers improved in January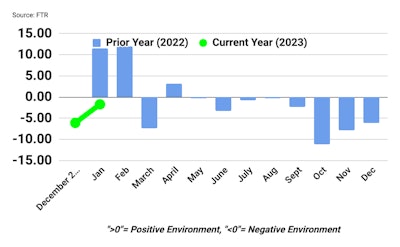 Trucking conditions improved substantially from December to January, according to FTR's Trucking Conditions Index (TCI).
The TCI in January rose to a -1.71 reading from December's -6.1. Stronger freight volume and rates partially offset weaker utilization and a fuel cost environment that was not as positive as it had been in December.
January's TCI might prove to be the least unfavorable for carriers for a while, FTR noted. FTR's current outlook is for consistently negative TCI readings into the third quarter of 2024, although swings in diesel prices could yield some outliers. Fuel costs certainly will be a positive contributor to the February index.
"While overall market conditions for trucking companies remain negative, we still see varied impacts among carriers based on size and type of operation," said Avery Vise, FTR's vice president of trucking. "For example, freight volume in the van segments looks largely stable or better after a decline in the second half of last year, but more specialized segments are expected to see continued weakness this year."
Vise added that financing costs have been a negative factor for the last nine months or more as the Federal Reserve looks to combat inflation with higher interest rates, "but those costs tend to hurt smaller operations more than larger ones," he said. "The recent troubles in the banking sector have further increased the degree of uncertainty as the economy and freight markets move toward a post-pandemic norm."
[Related: Truck orders climb for the first time in five months]
ATA's tonnage index up in February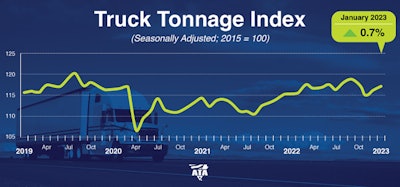 The American Trucking Associations' advanced seasonally adjusted (SA) For-Hire Truck Tonnage Index rose 1.2% in February after increasing 0.6% in January. In February, the index equaled 118.4 (2015=100) compared with 117 in January.
"Tonnage has increased sequentially for the last three months totaling 2.9%," said ATA Chief Economist Bob Costello. "As a result, the index is just 0.3% below the recent high in September. The fact that our index is growing sequentially and on a year-over-year basis demonstrates that contract freight continues to hold up at high levels."
Costello added that there is evidence that "the inventory cycle is improving, which means bloated stocks will stop being a headwind and eventually help truck freight volumes."
Additonal infrastructure spending will help boost freight volumes heading into the summer, Costello said, "however, we expect to see continued freight softness related to lower home construction and slowing factory output."
Compared with February 2022, the SA index increased 2.3%, which was the 18th straight year-over-year gain, but the largest since October. In January, the index was up 1.4% from a year earlier. In 2022, compared with the average in 2021, tonnage was up 3.5%.
The not seasonally adjusted index, which represents the change in tonnage actually hauled by the fleets before any seasonal adjustment, equaled 107.6 in February, 4.5% below the January level (112.6).
R+L Carriers founder passes away
Ralph L. "Larry" Roberts, founder of what would become R+L Carriers (
CCJ
Top 250
, No. 15), died March 19 in Ocala, Florida, following a battle with dementia.
Roberts started in the trucking business in 1965 with one truck in Wilmington, Ohio, hauling furniture from a warehouse behind his family's home. The still-family-owned business grew with the purchase of intrastate and interstate authority from Mayflower Moving and Storage and became R+L Carriers.
R+L Carriers today is among the largest LTL carriers in the country and serves all 50 states, Canada, Mexico, Puerto Rico, Dominican Republic, and the Caribbean Islands with truckload, LTL, and logistics services.
J.J. Keller expanding cargo securement offerings
J. J. Keller & Associates recently expanded its line of cargo securement devices to include additional J. J. Keller cargo securement straps and Doleco cargo securement devices, including tow and recovery straps.
The timing aligns with CVSA's upcoming Roadcheck, May 16-18, during which one of the focus areas is cargo securement — 1,934 related violations and 10.6% of out-of-service vehicle violations were attributed to cargo securement during Roadcheck 2022.
"J. J. Keller's expanded selection of cargo securement straps and supplies will allow us to keep costs lower for customers and better ensure supplies are available when they need them," said J. J. Keller senior portfolio leader Kevin Kucksdorf. "Our goal is to provide an unmatched product range along with the best customer service in the industry."
J. J. Keller offers a large line of cargo securement products and services — from securement straps and devices to training programs, handbooks and consulting — designed to help customers ensure their cargo is secured and their drivers know how to secure it.
[Related: ABS, cargo securement emphasis of Roadcheck blitz in May]
160 Driving Academy opens new California location
160 Driving Academy recently opened its newest location in San Diego, California.
The company said starting salaries for its graduates start at $65,000 on average, adding that 160 Driving Academies use data-driven programs to focus on driver safety and personalized analytics.
The San Diego Branch is located at 700 N Johnson Ave Ste E, El Cajon, CA 92020.