Trucking news and briefs for Tuesday, Oct. 31, 2023:
Shippers' conditions fell negative in August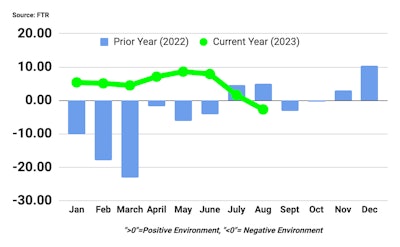 While conditions for trucking companies took a nosedive in August, shippers also felt the pain of current market conditions.
FTR's Shippers Conditions Index (SCI) continued to fall in August to its first negative reading since October 2022 at -2.7. Freight rates were not quite as positive as they had been during the month with the real market challenge for shippers being the recent surge in diesel prices.
"The decline was almost entirely the result of higher diesel prices as overall capacity remains abundant across modes," said Todd Tranausky, vice president of rail and intermodal at FTR. "But diesel prices pushed up rates and fuel surcharges leading to a less favorable environment for shippers. It is possible that diesel prices stay elevated for an extended period of time."
[Related: Fuel prices, weak freight volume hurt carriers significantly in August]
Ritchie Bros. hosting global auction in February
Ritchie Bros. Auctioneers will host its global auction event in Orlando, Florida, from Feb. 19-23, 2024.
Known for its size, selection and premier customer experience, the annual event typically attracts consignors and bidders from all over the world and generates hundreds of millions of dollars for consignors each year. Consignors have their choice of flexible selling options, whether their inventory is listed virtually or onsite at the more than 200-acre facility.
"Our February Orlando auction has become one of the most exciting events in the equipment industry, not only for local buyers and sellers but also across the North American and international markets," said Jeff Jeter, Chief Revenue Officer for RB Global. "Last year, we helped connect consignors and buyers from over 80 countries, using technology that expands the available market and creates efficiencies for our online and onsite customers."
Bidding for the February 2024 Orlando auction will be available online and in-person, with a live auctioneer and bid catchers onsite. Customers will also be able to explore Ritchie Bros.' core products and services onsite in Orlando, as well as a variety of other value-added services and solutions.
"We are excited to welcome customers to Orlando again for this premier event that really is much more than an auction," Jeter said. "The 2023 event proved wildly successful, with millions of page views and more than 13,300 items sold from more than 1,100 consignors. Over 22,600 bidders drove up competition, resulting in US$244 million in Gross Transaction Value. We look forward to seeing what the 2024 event brings."
Mack recalling certain LR refuse trucks over steering issue
Mack Trucks is recalling approximately 47 model year 2024 LR vehicles in which the fasteners that connect the power steering assist cylinder to the steering arm may be loose or missing.
National Highway Traffic Safety Administration documents state that as a result, the power steering assist cylinder may separate from the steering arm, causing a loss of vehicle control and increasing the risk of a crash.
Dealers will inspect and tighten the steering gear fasteners and install a new cotter pin, free of charge. Owner notification letters are expected to be mailed Dec. 15. Owners can contact Mack customer service at 1-800-866-1177 with recall number SC0451. NHTSA's recall number is 23V-713.