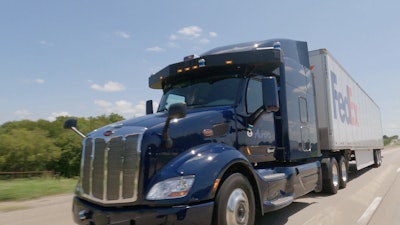 Drivers between Southeast and Northeast Texas might have taken part in a milestone Wednesday and not even noticed.
FedEx (CCJ Top 250, No. 1) has kicked off a collaboration with autonomous technology developer Aurora and Paccar to test Aurora's autonomous driving technology in Paccar's Autonomous Vehicle Platform (AVP) equipped trucks within its linehaul trucking operations – the first collaboration of its kind between a truck manufacturer, an autonomous technology developer and a logistics provider.
Autonomously enabled trucks configured with the Aurora autonomous Driver will haul FedEx loads between Dallas and Houston, a 500-mile round trip, along the I-45 corridor with a backup driver onboard only for additional safety.
"As leaders in our respective fields, we have critical and unique perspectives on how to develop and deploy safe, self-driving truck solutions for this industry," said Sterling Anderson, Aurora chief product officer. "This collaboration allows for the creation of a cohesive and integrated product and service. We believe there is no other credible way to deliver this complex and valuable technology at scale."
Rebecca Yeung, FedEx Corporation vice president, advanced technology and innovation, noted the carrier believes to joint pilot "will work towards enhancing the logistics industry through safer, more efficient transportation of goods," adding the commercial application of Aurora's Driver technology is the latest addition to the FedEx portfolio of autonomous and robotics solutions, as the company continues to experience record delivery volumes.
Paccar announced in January a strategic alliance with Aurora to develop, test and commercialize autonomous Peterbilt and Kenworth trucks and integrate Paccar's AVP.
Interstate 45 has become a hotbed for commercial implementation of driverless tech. In June, J.B. Hunt (No. 3) and Waymo – the self-driving unit of Google-parent Alphabet – announced a partnership that will see the Lowell, Arkansas-based carrier move freight autonomously along I-45 between facilities in Houston and Fort Worth using Level 4 autonomous driving technology supervised onboard by Waymo autonomous specialists, a commercially licensed driver and a software technician, each of which will monitor the Waymo Driver's operations throughout the runs.