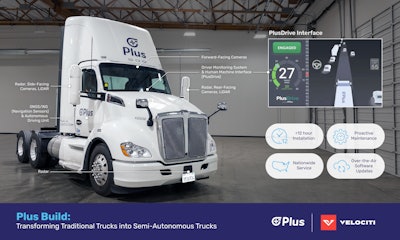 Autonomous truck technology startup Plus has tabbed Velociti, a fleet technology solutions provider, as the deployment and maintenance partner for the national rollout of its Plus Build program.
The Plus Build program includes the retrofit installation of the PlusDrive "kit" on an existing or new truck – a process that Plus cofounder and COO Shawn Kerrigan said takes less than 12 hours and converts those trucks into semi-autonomous trucks by equipping them with state-of-the-art lidar, radar and camera sensors, and Plus's proprietary autonomous driving software.
"Plus Build helps companies unlock the benefits of autonomous driving technology today by quickly modernizing trucks to improve their safety and uptime," Kerrigan said. "Velociti's unmatched technology installation and service network will help us get PlusDrive into the hands of more truck drivers across the country to make their jobs safer, easier, and better."
Installers are trained and certified by Plus. Installation takes place at various Velociti-operated sites, and Kerrigan noted that "all are in or near all major transportation hubs across the U.S. Customers can choose locations most convenient for them. "The discreet and modular design of PlusDrive makes it possible for us to train Velociti technicians to quickly modernize heavy trucks for fleets anywhere in the U.S."
PlusDrive is designed to be able to integrate into different truck brands and models, but Kerrigan said model years 2019 and newer currently work best "and we are expanding to support other models."
In addition to Velociti's technology installation services, Plus will implement Velociti's VeloCare solution, a flagship proactive system-health monitoring program including remote and mobile services to maximize technology uptime.
Supervised by a truck operator, PlusDrive can autonomously handle the following in normal traffic conditions on a highway and features lane centering; driver initiated lane change; traffic jam assist; predictive fuel optimization; adaptive cruise control (down to zero); lane merging; driver attentiveness detection; operational Design Domain (ODD) checker; self-calibration; and over-the-air updates.