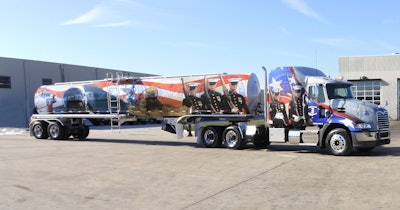 CCJ will be counting down its annual staff-chosen Five Flashiest Fleet winners this week. Voting for the inaugural Five Flashiest Fleets Readers Choice Contest runs until Dec. 24. Click here to cast your vote.
Carrier: Johnsrud Transport, Des Moines, Iowa
Graphics designer: Schneider Graphics
Graphics producer: Schneider Graphics
About 45 percent of drivers at Johnsrud Transport, which specializes in liquid bulk hauling for the food industry, are military veterans. The company showcases its commitment to active-duty and retired servicemen with special truck and tanker trailer graphics. Four Mack tractors, each representing a branch of the U.S. Armed Forces, are driven by veterans for the branch in which they served. Johnsrud's fleet graphics also include a tanker trailer with Coast Guard and POW-MIA tributes.
"The equipment is a tribute to our employees and their service to our country and a 'traveling tribute' to those that have served," says Jackie Johnsrud, president and chief executive officer. "It's our way of saying thank you and that your service is appreciated."
Why we liked it: "It's patriotic without being too over-the-top. And I like that there's a consistent look and feel to the trucks while recognizing each of the four main branches of the U.S. military. The overall concept is very well thought out and executed." – Jack Roberts, CCJ executive editor
About CCJ's Five Flashiest Fleets:
Fleet graphics can say a lot about a company. Whether they serve to promote brand image or a specific product, many carriers turn to truck and trailer wraps to stand out in the crowd. And as the trucking industry pushes to revive its reputation, these images can help fleets better relate to the motoring public and present a professional look to their customers.
Since 1978, CCJ has been proud to recognize excellence in fleet graphics design and execution. The judges for this year's competition included the editorial and art design staff from CCJ and sister magazines Overdrive and Successful Dealer. Each judge ranked their top 10 out of 52 submissions, and scores were weighted to determine a final ranking.
Other Five Flashiest Fleets winners:
No. 5: Marten Transport/SweetWater Brewing Co.