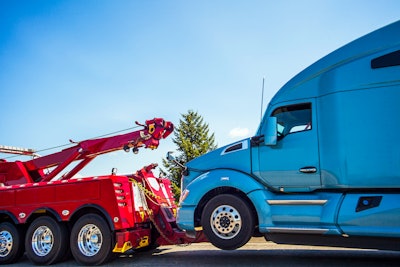 Trucking news and briefs for Thursday, April 29, 2021:
Report: Miles to breakdown improved late last year
Fourth quarter 2020 results of Technology & Maintenance Council (TMC)/FleetNet America Vertical Benchmarking Program showed a wide disparity in the periods between unscheduled roadside maintenance among fleet type. The TMC/FleetNet Vertical Benchmarking Program is a benefit for TMC fleet members.
During the fourth quarter, the average fleet operated 36,315 miles between unscheduled road repairs, largely in line with previous quarters. However, the frequency of unscheduled road repairs varied widely between the three verticals (LTL, TL and tank).
Truckload carriers saw a 14% improvement over the third quarter, running 25,599 miles between breakdowns. The tank vertical experienced a slight increase in roadside failures compared to 3Q, running 19,983 miles between breakdowns. And the LTL vertical increased from 46,525 miles between breakdowns in the third quarter to 55,823 in the fourth quarter.
"The data tells us that if, for example, the truckload carriers running the average miles between breakdowns could reach best-in-class performance, they would increase their miles between breakdowns by 55%," said Emily Hurst, manager of data and analytics at FleetNet America, "and that would result in overall lower costs."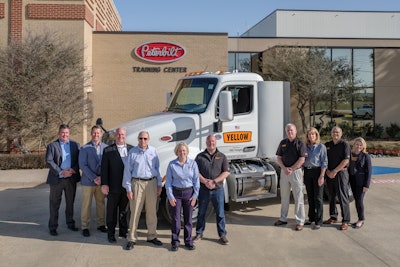 Yellow purchases 1,200 new Peterbilt day cabs
Yellow Corporation, formerly YRC (CCJ Top 250, No. 6) has purchased more than 1,200 new Peterbilt 579 Day Cab tractors to replace the oldest trucks in its fleet. The new equipment features is rolling off Peterbilt's Denton, Texas, assembly line daily.
"I'm thrilled to provide this brand-new equipment to our drivers and buy it from a great American company," said Yellow Chief Executive Officer Darren Hawkins. "We are proud to refresh and modernize much of our fleet. This is not only a boost for our employees, but it's a win for the economy and America's frontline workers."
In the first quarter of 2021, Yellow took delivery of more than 1,100 tractors, 1,600 trailers and 140 containers.
The new equipment will upgrade Yellow's aging tractor fleet. The oldest pieces of equipment will be among the first to retire. Yellow's Dallas distribution center will be among the first Yellow facilities to receive the new tractors.
Fleet increases driver pay for second time this year
Roehl Transport (CCJ Top 250, No. 61) will increase truck driver pay for a second time this year. The increases will add between $4,000-$6,000 or more to most company drivers' annual pay, the company says.
The pay increases will be effective May 24 and apply to company drivers in Roehl's Refrigerated, Flatbed, Van, Curtainside and Dedicated divisions.
"Because we've been adding driving teammates and winning new lanes from customers, we're able to increase our driving teammates' pay," said CEO Rick Roehl. "Our drivers are leaders in pay, productivity and safety, and our second increase in compensation reflects our commitment to Driver Success."
The company is also increasing owner-operator and lease-operator compensation. On top of a sliding mileage compensation package, owner-operators and lease-operators who partner with Roehl get B.O.S.S. benefits that include business advisors, a top fuel surcharge program, as well as additional support.
Roehl's Accident-Free Pay increase was effective in February. At that time, the company also announced a significant increase in home daily trucking jobs. Unlike most local trucking jobs, Roehl's home daily jobs offer regional pay plans, so Roehl drivers get a combination of more pay and more home time.