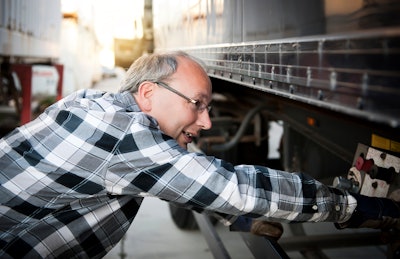 No fleet likes to be dinged for a CSA maintenance violation. If the violation is severe enough a truck can be taken out of service, fines can be levied, and a bad CSA score can scare shippers away.
The good news is there are some steps you can take to help reduce your number of CSA violations.
Pre-trip inspections
The
pre-trip inspection
is the first line of defense against a CSA maintenance violation. Before every trip, drivers are supposed to complete a mandated pre-trip inspection of the condition of the truck they are about to take out.
According to the Federal Motor Carrier Safety Administration, "Before operating the vehicle, the driver must inspect the vehicle and be satisfied that it is in safe operating condition." Sounds simple enough, but the reality is that not all pre-trip inspections are equal.
Some drivers put a great deal of effort into their pre-trip inspections and others just "pencil whip" them.
There are things you can do ensure thorough inspections are completed. Start by making sure your inspection form follows an orderly flow that walks the driver all the way around the vehicle.
The easier you make it for them to complete the inspection, the more likely it is that it will be done properly. An electronic inspection form that a driver can fill out on a cellphone or tablet is another way to ensure compliance.
We all have heard the saying "if you can't measure it, you can't improve it."
Make sure you are tracking pre-trip inspection compliance and noting CSA violations that should have been found during a pre-trip inspection, as well as paying attention to roadside breakdowns that occur shortly after a truck leaves the yard. Look for things that should have been found during the pre-trip inspection.
Post-trip inspections
FMCSA also mandates post-trip inspections and driver inspection reports that must list "any defect or deficiency discovered by or reported to the driver which would affect the safety of operation of the vehicle or result in its mechanical breakdown."
Items included in the inspection are service brakes, parking brake, steering mechanism, lighting, tires, horn, windshield wipers, rear-view mirrors, coupling devices, wheels and rims and emergency equipment. Again, it is best to make these post-trip inspections as easy to complete as possible.
Make repairs found during driver inspections
The FMCSA guideline also says, "If the last vehicle inspection report notes any deficiencies, the driver must review and sign to acknowledge and certify that the required repairs were made."
Make sure that if a driver notes something during the pre-trip, it gets handled. If drivers don't think their complaints and concerns are being taken seriously, they are not going to put a lot of effort into their inspections.
Preventive maintenance inspections
Make it habit that whenever a truck is in for service that a technician performs a maintenance inspection to look for things that could cause a CSA violation or that would make the vehicle unsafe to operate.
Scheduled preventive maintenance service
Use manufacturer's recommended maintenance service intervals as the starting point for your scheduled maintenance service. Based on your fleet's unique operating characteristics, and using data from roadside breakdown and unscheduled repairs, alter the frequency of the PM service.
Special maintenance programs
The Commercial Vehicle Safety Alliance (CVSA) holds International Roadcheck, a 72-hour annual event in which certified inspectors conduct inspections of commercial vehicles and drivers. Although these inspections are Standard Level 1 inspections, they usually have a special area of emphasis.
CVSA shares what those areas will be prior to the event. For the 2022 Roadcheck the special maintenance emphasis is wheel ends. This year's International Roadcheck dates are May 17-19. In the weeks leading up up to enforcement campaigns, make sure to ask drivers and technicians to focus a little extra attention on the area CVSA is also focusing. CVSA conducts Brake Safety Week (Aug. 21-27) and Operation Safe Driver (July 10-16). These, too, are opportunities for you to step up your maintenance inspections to make sure your trucks are road ready and safe.
Random inspections
Have a driver's supervisor complete random vehicle inspections to ensure drivers are noting defects during their pre- and post-trip inspections. Also have service managers perform random inspections of PM service to ensure all problems were noted and repaired.
Conduct root cause analysis
Look for the root cause of safety issues noted by drivers, CSA violations, or during random checks. Identify not only the failure but also what the true cause was, and what can be done to prevent future occurrences. Root causes can be related to the vehicle spec not designed for the application, poor parts quality or a lack of/poor PM, among other things.
Conduct a review following a maintenance or repair issue
Spend time identifying every opportunity where you could have identified a problem sooner than you actually did and beef up training so drivers and technicians are better able to find problems sooner.
While it is probably impossible to avoid all CSA violations, if you follow the steps outlined above you should significantly reduce them and know that you are putting safe vehicles out on the road.
Joe Puff is the Vice President of Truck Technology and Maintenance for NationaLease. He has more than 35 years of experience in complex sales and fleet operations, including extensive experience in commercial vehicle maintenance. Joe is responsible for advising NationaLease members and the National Account team of new truck technology, industry trends, and maintenance best practices.