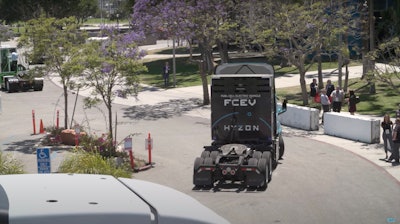 Some of the best interviews are the ones you least expect.
Case in point: While at the Advanced Clean Transportation Expo last month in Long Beach, Cailfornia, I was given the task of interviewing fleet reps at the ride and drive event to get their impressions on a growing number of clean-running trucks and vans. (Video below)
It's not as easy as it sounds. First, I had to locate a truck or van of interest in the convention center parking lot as it rolled back in from a brief test drive. Second, I had to hope that the person inside the vehicle actually worked for a fleet and that they would agree to an on-camera interview with yours truly.
About half the people I approached were vehicle suppliers and manufacturers — not fleets which I needed for this assignment.
Thankfully, most fleet folks were agreeable to an on-camera interview (though a few changed their minds once they stepped in front of the camera) and most made the final cut. But there's one interview you won't see and for good reason.
One of my fleet sources, as it turned out, was a tow truck company owner in Indiana. So, was he interested in adding an EV to his fleet? Maybe even an electric tow truck? Granted, there were none in the ride and drive but what's to stop a guy from dreaming and driving the next best thing?
No, he wasn't interested in buying a zero-emission vehicle (ZEV). He was more interested in learning how to tow them properly. He explained that he had already been towing range-depleted electric cars on the side of the road, and now he wanted to get the jump on all-electric trucks and vans. (And no, he didn't miss the irony of a ZEV being rescued by ICE.)
That totally took me and my camera man by surprise. But really…how can you not appreciate a tow truck driver who's trying to get ahead of the curve for a big commercial EV rollout? After all, towing an EV, he said, was not like towing conventional ICE. So he came here to the Mecca of ZEVs to learn even more since he suspected that he'd eventually be getting calls for range-depleted electric trucks and vans on the side of the road alongside those electric cars.
So, what about his ride and drive impressions? He liked the vehicles during those short few minutes he was given to get acquainted. He was just concerned about range and the ability of these high-tech, high-dollar ZEVs — particularly all-electric — to keep up with the rigorous demands of work.
I heard that from other sources as well. During a lunch break inside the convention center, I struck up a conversation with a gentleman sitting close by (finding a seat could be tough considering ACT's record attendance shot up 60% over last year).
It just so happens this man was a fleet manager shopping for zero-emission trucks. He flat out told me that all-electric wouldn't cut it for his power-hungry street sweepers. He was definitely leaning more towards fuel cell.
So electric took another hit during another surprise interview leaving fuel cell to move ahead with longer range and faster fill times. Still, both technologies remain fairly unproven outside of some pilot programs and are really expensive — nearly untouchable outside of incentive-rich California.
What if there was a third zero-emission option that leans on a technology that fleets have come to trust all along? There just might be.
The German-based Hydrogen Engine Alliance told me this week that the European Union is considering zero-emission status for hydrogen engines. You can read more about that here.
Basically, it comes down to the ability of hydrogen ICE to drastically cut carbon, which climate advocates say destroys the ozone layer and leads to higher temperatures.
Hydrogen sourced from renewable natural gas (RNG) can get an even lower carbon intensity score since RNG is sourced from methane that's considered to be much more destructive to ozone than CO2.
Hydrogen engines use an internal combustion platform that's familiar to fleets and costs significantly less than all-electric and fuel cell. True, there are emissions but as Cummins general manager of hydrogen engine business Jim Nebergall explained it's "a 75% reduction in NOx from today's standards."
Hydrogen engines for medium and heavy-duty trucks in Europe certainly appear to have a good chance of earning a ZEV moniker. After all, the EU "classifies vehicles with combustion engines as zero-emission vehicles if their emission levels are below 1 g CO2/kWh," said Thomas Korn, engineer and founder of hydrogen engine company Keyou in Munich, Germany.
That would include hydrogen combustion, Korn added. But that's Europe, not the U.S. where the California Air Resources Board and EPA view any tailpipe emissions as disqualifying a powertrain from ZEV status.
In a black and white sense, I get it. But given the lower cost, the big drop in NOx and the sharp carbon reduction – a 99% drop in CO2 for Cummins' 6.7 and 15-liter hydrogen engines — and power similar to diesel according to Nebergall, maybe CARB and the EPA really need to rethink their position on hydrogen combustion. Besides, other players in H2 ICE are emerging including Toyota, Yamaha and Ford.
Simply put, expecting all-electric and even some fuel cells to rise up and take the place of all diesel-powered commercial trucks and vans isn't fair to those nascent industries or fleets, though admittedly there might be some tow truck drivers eager to swoop in and save the day.