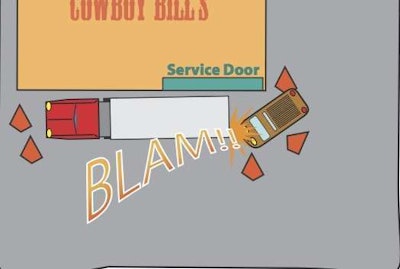 After a tasty breakfast of Navajo Tacos at the West Winds Truck Stop in Green River, Utah, trucker John Doe continued his run to locally-famed Cowboy Bill's All-Beef Burgers to deliver some shrinkwrapped cartons of soybean meal. Later, arriving at the burger joint, Doe pulled into the drive-through area adjacent to the service door and liberally sprinkled the area with bright orange traffic cones, just in case a blind and demented four-wheeler failed to see his huge Class 8 tractor and trailer.
While waiting to be unloaded, Doe updated his apps, simultaneously sucking a celery stick to improve his concentra … BLAM!! A mild tremor had rippled through Doe's cab. What the blazes? Swallowing his celery in one convulsive gulp, Doe popped out of the cab and saw that Matilda "Missy" Hornswaggle's pickup had roared around the corner and introduced itself – rather violently – to his trailer's candy-striped ICC bar!
Hornswaggle, wiping large amounts of Cowboy Bill's Famous Ropin' Sauce and burger fragments from her face, immediately accused Doe of backing into her vehicle. A nifty trick, Doe mused, considering Hornswaggle had run over some of his cones in the course of attacking his trailer!
Because Doe contested the preventable-accident warning letter from his safety director – who claimed that all professional drivers should be psychic – the National Safety Council's Accident Review Committee was asked to render a final decision. NSC quickly ruled in Doe's favor, noting that he had no control over maniacal Missy.
Do you want to read about more Preventable or Not? situations? Click here to check out the guides on the eTruckerStore.