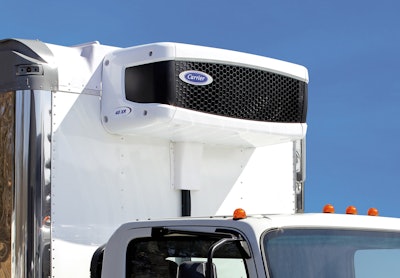 Carrier Transicold has introduced its new, engineless 40XR and 50XR truck refrigeration units, direct-drive systems used for local and regional deliveries by grocery, food service, produce and pharmaceutical businesses.
The new XR series units provide improved air management and increased air flow resulting in faster pulldown and more uniform temperature control when compared to the X series models they succeed.
Scott Parker Carrier Transicold product manager of truck products, said, for example, the unit condensers have been upgraded to our proven microchannel coil design for higher-efficiency heat transfer, as well as weight savings and added durability. Condenser fans have been enhanced with maintenance-free brushless motors for better reliability.
"Sustainability is also improved when using the next-generation refrigerant R‑452A, which has about half the global warming potential of R-404A, the refrigerant used with the prior models," Parker added. "Plus, due to efficiency gains, the required refrigerant is reduced by more than 20%."
The XR series units are designed for mid-sized and large trucks. The 40XR, with an on-road capacity of 14,500 BTU/hour, is designed for boxes 12 to 18 feet long. With a 17,000‑BTU/hour on-road capacity, the model 50XR is well-suited to trucks with a cargo area up to 20 feet in length. Both models also have improved electric standby operation capacities compared to the models they succeed. As direct-drive units, their belt-driven refrigerant compressors are powered by the truck engine, eliminating the weight and costs associated with having a separate engine for the refrigeration unit.
Carrier Transicold direct-drive truck units are split systems, in which the condenser is nose-mounted to the truck box over the cab and the evaporator is attached to the ceiling of the cargo area. Carrier Transicold's SlimLINE evaporator has an extra-flat, space-saving design that helps to maximize the cargo area. The refrigeration unit can be operated from within the driver cab via the easy-to-use Cab Command™ 2 digital control.