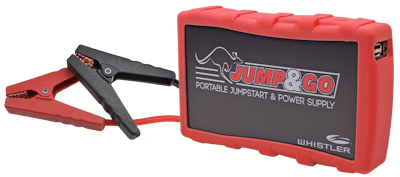 The Whistler Group's Jump&Go portable power supply is designed to jumpstart 12-volt vehicles many times on one single charge. The 11-pound device features a lithium polymer battery designed to be recharged hundreds of times and hold a charge for more than a year.
The device features a 2.1-amp USB port and built-in multifunction LED flashlight for emergency situations, a battery power/charging level indicator, built-in overcharge protection and back-feed protection.
The shock-absorbent silicone covers are available in black, yellow, red, and pink. The device comes with a zippered storage case that also holds the jumper cables, charger and home charger.
The Whistler Group, www.whistlergroup.com