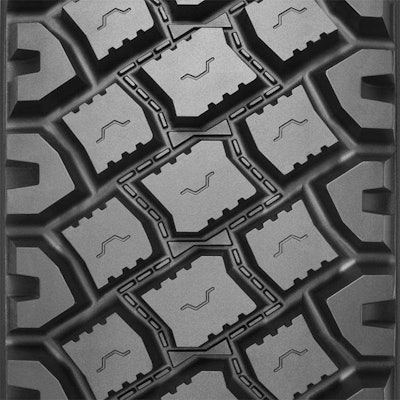 Michelin's X Works Grip D drive-axle tire is designed specifically for energy-sector and logging fleets operating in extreme on- and off-road conditions.
Traction is facilitated by staggered shoulder blocks that help provide lateral grip to better handle slippery conditions; sawtooth lugs with more than 800 serrated edges to maximize grip on ice and snow-packed surfaces; an extra-wide tread; and an optimized rubber-to-void ratio.
Casing durability is enhanced through stone protection due to ejectors around the center block that help fight stone retention and drilling; shock, impact and road- hazard protection through four steel belts at the crown of the tire; sidewall protection facilitated by extra-thick sidewalls that help protect the tire in extreme conditions from chipping and scaling; and the company's Co-Ex Technology for a cool-running tread rubber that helps reduce temperatures in the crown area and preserves the casing for retreading.
To maximize uptime, the tread's housing design and the positioning of the shoulder blocks both have been optimized for quicker snow-chain installation and removal. The tire is available in size 11R24.5 size, load range H.