Volvo Group
The Happiest Place on Earth is not too happy about a new warehouse emissions rule in Southern California, which requires warehouse operators to either do business with more emissions friendly trucks or take on mitigation options that include stiff fees.
Disneyland Resort joined several other organizations, including the California Trucking Association, in voicing concerns about Rule 2305 – otherwise known as the Warehouse Indirect Source Rule (ISR) – which was adopted last month by the South Coast Air Quality Management District (SCAQMD) to reduce air pollution in communities adjacent to warehouses in Los Angeles and neighboring counties.
The rule requires warehouses greater than 100,000 square feet to reduce nitrogen oxide (NOx) and diesel particulate matter (PM) emissions or to help offset these pollutants in nearby communities.
"The rule requires operators to take actions every year to improve air quality by selecting from a menu-based points system," said SCAQMD Senior Public Information Specialist Bradley Whitaker. "Each warehouse operator's points compliance obligation is unique to each facility and based on the number of truck trips to their facility during that year."
Critics of the rule have said the burden of meeting tougher emissions requirements is being unfairly placed on the backs of warehouse owners and operators, many of which do not own trucks.
Truck activity is also a concern. While Disneyland's warehouse space meets the size threshold for this latest emissions regulation, the Magic Kingdom pointed out that they don't have truck traffic on a regular basis.
"Our warehouses are large in space (to store off season stuff like Christmas decos) but with very little traffic," Hao Jiang, environmental affairs engineer at Disneyland Resort, wrote in a letter to SCAQMD prior to the rule's adoption. "Tracking truck trips will have significant impact to our operational cost. A low activity exemption threshold would be reasonable."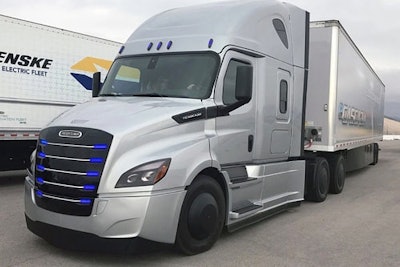 The California Trucking Association, the California Chamber of Commerce, and 55 additional organizations penned a letter that calls the rule costly, adding it duplicates legislative groundwork laid by CARB, which requires the sale of zero-emission commercial vehicles starting in 2035.
"Duplicative rulemaking by CARB and the SCAQMD that does not move the needle on environmental benefit in the basin not only wastes the state's resources, but unnecessarily increases the cost of compliance for an industry that is gearing up for the all-electric future envisioned by CARB and Governor [Gavin] Newsom," the two-page letter states.
SCAQMD views the new legislation as necessary for protecting the health of residents living near Southern California warehouses.
"About half of the air pollutants that contribute to smog come from the goods movement industry, with the largest source being heavy-duty trucks heading to warehouses across Southern California," said Wayne Nastri, SCAQMD's executive officer. "After many years of development, today's adoption of the warehouse rule is a major step towards reducing air pollution and protecting the millions of people directly impacted by this type of pollution."
General Motors, which operates auto part warehouses in Rancho Cucamonga and Fontana, expressed support for the rule, calling it "a first-of-its-kind regulation striving to encourage rapid uptake of vehicles that are in the early stages of pre-commercial or early commercial deployment.."
GM's Environmental Policy Manager Todd Rouse wrote in a letter to SCAQMD that "GM cannot fulfill its vision of zero emissions without sound energy and environmental policies that encourage and enable the shift to electric vehicles."
Rouse also stated that GM will be "expanding its zero emissions vehicle strategy into the goods movement market through the addition of BrightDrop commercial electric vehicles and pallets and through collaborative agreements with Nikola and Navistar to produce fuel cell powered semi-trucks."
Mitigating circumstances
The Warehouse Indirect Source Rule went into effect immediately following its passage last month. Warehouse owners will have to submit their first compliance report by Sept. 1. Following that, reports will be required on an annual basis.
"This is a basic informational report from warehouse owners," Whitaker explained. "The points component of the rule will be phased in over the course of three years, with the largest facilities (>250k square feet) required to earn points in the first year (beginning Jan. 1, 2022), the next largest (>150k) in the second year, and the final group (>100k) in the third year. The first group of warehouse operators will file their first compliance report in January 2023."
CCJ asked Whitaker how warehouse owners could be expected to lower emissions on trucks they don't own, and if this indirect approach at regulating emissions has proven successful elsewhere.
"If warehouse operators want to incorporate cleaner trucks to comply with the rule, they can do so with trucks they own, through trucking companies they directly contract with, or work with goods owners to arrange for cleaner trucks that visit their warehouse," Whitaker said.
[Related: California math shows internal combustion beating electric on emissions]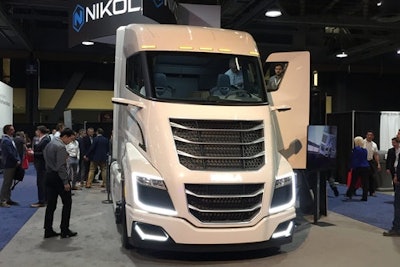 "Once fully phased in, a warehouse operator could comply by arranging for about 10-15% of truck trips to be near-zero emission natural gas, or zero-emission battery or fuel cell trucks. Non-truck options are also available to comply with the rule," Whitaker continued. "While the approach taken in the warehouse rule is unique, business models are emerging around the world as metropolitan areas are seeking to reduce emissions, with many cities implementing low emission zones in Europe, rapid deployment of electric trucks in Shenzen, China, and many companies in the U.S. seeking to advance their own sustainability goals."
For warehouse operators that cannot make the switch to cleaner running rigs, there's always the menu-based points system where becoming compliant can become costly.
"Warehouse operators may earn points to meet their compliance obligation from a prescribed menu, they can implement a custom plan, or they can choose to pay an in-lieu mitigation fee," Whitaker said. "This in-lieu mitigation fee is set at $1,000 per point."
Violations will be issued to facilities that do not comply.
"Under state law, penalties can vary based upon the degree of harm, measures taken to come into compliance, financial burden on the defendant, whether the violation was negligent or willful, and other relevant factors," Whitaker explained. "For violations where willful or knowing action is not shown, and there is no emissions violation, the maximum penalty is $10,000 per violation."
The fees alone for the Warehouse Indirect Source Rule are expected to squeeze $1 billion out of the warehouse industry, which will be used to fund clean air initiatives. That extra cost has many warehouse supporters on edge including Los Angeles Area Chamber of Commerce President and CEO Maria Salinas.
"While we appreciated that SCAQMD's staff has discussed and engaged with the Chamber on this issue, the estimated $1 billion in annual fees for this essential industry and compliance infeasibilities PR 2305 creates uncertainty in an increasingly uncertain economy," she said.