Trucking news and briefs for Monday, Feb. 6, 2023:
Nationwide ELD pulled from FMCSA registry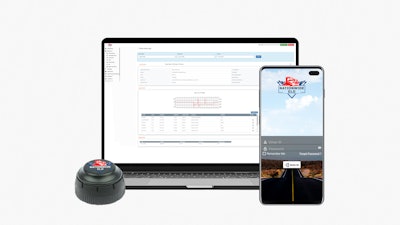 Fleets and truck drivers using the Nationwide ELD from Nationwide Technologies Inc. have until April 4 to stop using and find a replacement for the device after the Federal Motor Carrier Safety Administration revoked the device's certification, removing it from the agency's list of certified ELDs.
Like the ELD ONE device revoked earlier last week, FMCSA did not say specifically what caused the Nationwide device to be revoked and instead said the company failed to meet the minimum requirements in Appendix A of the ELD regs, which lays out the functional specifications ELDs are required to meet.
CCJ has not yet received a response from Nationwide for clarification on why the device was revoked and how many drivers may be affected.
Carriers and drivers who continue to use the device beyond April 4 will be in violation of the "No record of duty status" regulation, and drivers could be placed out of service.
If Nationwide corrects what caused its device to fall out of compliance, FMCSA will place the device back on the list of registered devices. However, FMCSA strongly encourages motor carriers to stop using the device and replace it with a registered ELD to avoid compliance issues in the event that the device's deficiencies are not addressed in time.
Knight-Swift makes appointment to board
Knight-Swift Transportation (CCJ Top 250, No. 5) has appointed Jessica Powell, associate general counsel for California Closet Company, a large custom storage business operating throughout North America, to its Board of Directors. She will serve until the 2023 annual meeting of stockholders and will be subject to annual election thereafter.
Powell was also appointed to the Audit Committee and the Nominating and Corporate Governance Committee of the Board.
During her legal career, Powell gained extensive experience in legal, regulatory, compliance, and governance matters, and frequently advised clients on securities, finance, mergers and acquisitions, and intellectual property matters, amongst numerous other issues. Ms. Powell holds a Bachelor of Arts degree in International Relations from Stanford University and a Juris Doctor from the University of Chicago.
Source One offsetting emissions with certified carbon offset purchases
Source One Transportation is taking a greater role in environmental sustainability by offsetting carbon emissions.
With the support of Guttman Renewables, the sustainable energy affiliate of Guttman Holdings, Source One is now offsetting its carbon emissions through the purchase of certified carbon offsets.
One of the sustainability goals of Source One is to reduce its environmental impact and build a culture of social responsibility. With a fleet of more than 40 transport trucks, Source One will offset 100% of its annual CO2 emissions.
The Guttman Renewables Carbon Offset program will enable Source One to invest in scientifically backed, global initiatives that eliminate greenhouse gases. These efforts are in line with Source One's strategy to evolve with its customer base.
"ESG and sustainability initiatives are becoming increasingly common among our customer base," said Source One's Director of Transportation Operations Brandon Roberts. "Offsetting our emissions not only sets an example in the marketplace but also helps our customers reduce their Scope 3 indirect emissions."