Trucking news and briefs for Friday, Feb. 3, 2023:
Jones Logistics acquires Nationwide Express
Jones Logistics, a 363-truck fleet based in Hattiesburg, Mississippi, announced Thursday it has acquired 102-truck Nationwide Express, based in Shelbyville, Tennessee.
Nationwide provides dedicated trucking services, warehousing, 3PL logistic services, recycling transportation, and waste management offerings. Its geographic footprint includes operations in Alabama, Arkansas, Georgia, Kentucky, Mississippi, Oklahoma, Tennessee and Texas.
Jones Logistics is a portfolio company of Jones Capital, offering freight brokerage, managed transportation, and dedicated services across the United States. Through this acquisition, Jones expands not only its geographic footprint, but also its service line offerings and capabilities, which will now include warehousing and enhanced intermodal and managed transportation solutions. Further, Jones can now offer Nationwide's customers access to its broad and deep carrier base and its nationwide dedicated offerings, the company said.
"Nationwide Express is a highly reputable organization rooted in the same fundamentals of professionalism, quality and customer satisfaction as Jones Logistics. We share very similar core values and feel that we have complimentary cultures, which was so important to us when looking at this opportunity" said Brian Haynes, CEO of Jones Logistics. "We are excited to welcome the Nationwide Express team to the Jones Logistics family, and we are eager to bring the benefits of our combined team, network, and capabilities to our customer base."
Oregon Volvo, Mack dealer certified for EV work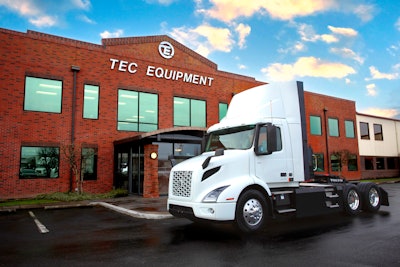 TEC Equipment in Portland, Oregon, has completed the process to become a Certified Electric Vehicle Dealership for Volvo and Mack.
The dealership will now be to service and support the Volvo VNR Electric and the Mack LR Electric refuse truck.
TEC Equipment's Portland dealership, which also serves as its corporate headquarters, is Oregon's first dealership to achieve the certification. The dealer's Fontana, California, location became the very first Volvo Trucks Certified EV Dealership in July 2021. Including Fontana, Portland is the fourth TEC Equipment location to be EV-certified. Other EV-certified TEC Equipment locations, all in California, are Fontana, La Mirada and Oakland. TEC is also working toward certifying its Dixon, California, dealership.
To become EV-certified, dealers are required to meet numerous stringent safety, infrastructure, charging, tooling and training requirements. Mack executives work closely with dealer leadership to ensure all requirements are met before certification and that the transition is smooth.
Six fleets seek waiver to allow Intellistop flashing brake lights
Following a request last week from 24-truck Encore Building Products, six more carriers have now petitioned the Federal Motor Carrier Safety Administration for a waiver from the requirement that lighting devices be steady burning.
The six fleets each asked FMCSA for the ability to use a module manufactured by Intellistop that pulses the rear clearance, identification and brake lamps from a low level of lighting intensity to a high level of lighting intensity four times in two seconds when the brakes are applied.
Each of the six carriers submitted nearly identical requests, stating that the pulsing brake lights "would enhance rear signal systems," adding that the Intellistop system "may significantly increase visibility and reduce the frequency of rear-end crashes."
FMCSA is requesting comment on each request through March 3. Comments can be filed at the following links:
Fleets seeking the exemption, including links to their respective comment pages, are: