Trucking news and briefs for Friday, Feb. 24, 2023:
Pitt Ohio seeking exemption from provision in Safe Driver Apprenticeship Pilot
Pitt Ohio Express (CCJ Top 250, No. 52) is petitioning the Federal Motor Carrier Safety Administration for an exemption for its drivers from one of the requirements in the agency's Safe Driver Apprenticeship Pilot (SDAP) program.
The company is requesting to use drivers under the age of 21 that have a commercial learner's permit (CLP) to operate in interstate commerce to participate in the SDAP program. Pitt Ohio said it believes the requested exemption would make it easier to recruit drivers to participate in the program.
The SDAP currently requires under-21 drivers to hold a commercial driver's license rather than a learner's permit before enrolling in the program.
Under Pitt Ohio's request, the CLP holders would still have to meet all other requirements of the SDAP, as well as the existing regulatory requirements for CLP holders.
If granted, Pitt Ohio estimates that 25 CLP holders would operate under the exemption a year.
FMCSA is accepting comments on the request here through March 27.
[Related: Slow start for the Safe Driver Apprenticeship Pilot Program]
Shippers' conditions skyrocketed in December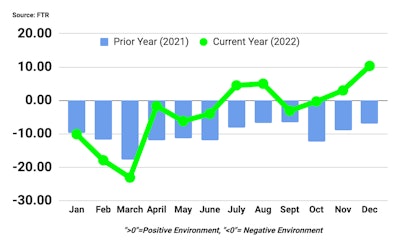 FTR's Shippers Conditions Index (SCI) jumped to 10.32 in December from November's 3.0 reading.
The huge drop in fuel prices in December supercharged what were already strong market conditions resulting in the highest SCI reading since May 2020, FTR said. Even eliminating the strong impact of dropping fuel prices, December was a very favorable environment for shippers in terms of freight rates, capacity utilization, and volume, and the index still would have been the best since the May 2020 reading.
The SCI outlook is a bit stronger than the prior forecast with uninterrupted positive readings well into 2024.
"Declining active truck utilization, lower truck rates, and improving rail service should all help shippers experience more favorable conditions going forward," said Todd Tranausky, vice president of rail and intermodal at FTR. "These factors are expected to remain in place through 2023 before starting to swing back toward carriers next year. The improvement will be a welcome respite for shippers who faced higher rates and capacity shortfalls coming out of the COVID-19 pandemic in 2020 and 2021."
Former safety manager sentenced for conspiracy in illegal tank repair scheme
Donald Cameron Spicer, former safety manager for National Distribution Services, Inc. (NDSI), was sentenced this month to three years of probation, a $10,000 fine, 1,000 hours of community service, and a $100 special assessment for his role in a scheme to conduct illegal repairs on cargo tanks.
According to the Department of Transportation's Office of Inspector General, in August 2021, Spicer pleaded guilty to conspiracy in connection with the scheme. NDSI operated as a cargo tank repair company contracted to repair hazardous material tankers.
However, OIG said, the company was not registered with the Federal Motor Carrier Safety Administration to conduct such repairs. In conducting business, NDSI caused the death of one tank repair employee and the serious injury of another.
Carl Bradley Johansson, owner of NDSI, was sentenced for the scheme in November 2022 to 10 years in prison. Johansson was also sentenced for tax evasion and fraudulently obtaining approximately $954,417 in COVID-relief money while free on bond in the tanker explosion case, and was ordered to pay $1,252,979 in restitution to two banks and the IRS.