The National Highway Traffic Safety Administration's plan to mandate side underride guards has become a hot topic with almost 2,000 comments on a federal regulatory docket and a major mainstream media look into the long regulatory saga.
But the side underride guards, intended to prevent the extremely dangerous situation of passenger vehicles going under a trailer during a crash, might cause more harm than good, many commenters note, despite efforts to cast them as life-saving devices.
Lewie Pugh, executive vice president of the Owner-Operator Independent Drivers Association, was among trucking stakeholders interviewed for PBS Frontline's examination of the push for side-underride guards, which aired under the misleading title "America's Dangerous Trucks." There, Pugh voiced objections to requiring the guards on trailers on the grounds of increased costs and potential unforeseen safety consequences. Such concerns were highlighted in OOIDA's own filed comment on the NHTSA advance notice of potential rulemaking to mandate the devices on new trailers. "Advancing any side underride mandate," OOIDA contended, "ignores the safety, economic, and operational concerns that have been raised by small-business truckers" over many years.
Tasked by Congress via 2021 infrastructure legislation with studying the issue, NHTSA's most recent research pegged potential additional costs of a mandate at $3,740 or more per trailer in equipment and install alone.
[Related: Trailer side-underride rule could bump costs $3K]
Additionally, with "a weight increase of 450 to 800 pounds per trailer, requiring side underride guards is estimated to increase lifetime fuel costs for new trailers entering the fleet each year by approximately" $200 million to $450 million, the NHTSA wrote in its ANPRM.
OOIDA noted estimated costs in aggregate were "six to nine times as large as the corresponding estimated safety benefits," and that NHTSA's estimates simply don't "account for a variety of factors that will increase the total costs."
OOIDA highlighted that "strengthening of the beams, frame rails and floor of the trailer" would likewise be required and could add to costs. The association believed aggregate costs could well exceed $1 billion by the terms of NHTSA's analysis if all were factored in, "making it one of the costliest federal trucking mandates in history. Any move by the agency to advance such a measure is premature and shortsighted."
Indeed the DOT's own report on trailer side underride guards concludes that "alternative approaches" to mitigating side underride crashes make more sense, as the mandate would simply cost more than it would benefit.
Equipping "trailers with side underride guards would mitigate fatalities and would likely also mitigate serious injuries for [light passenger vehicle] occupants associated with side underrides," the DOT's report noted, adding that "the costs of doing so exceed the benefits across the range of assumptions considered in the analysis." The single biggest driver of high-cost impacts? "Hardware costs across the scenarios evaluated," NHTSA added, "but the effect of side guard weight on [commercial truck] fuel costs is also a critical factor."
NHTSA used other crash statistics to arrive at a different cost-benefit ratio, but still seems to have ultimately concluded the program's costs, between $900 million and $1.2 billion, would be out of line with the benefits of saving 17 lives and preventing 69 serious injuries each year.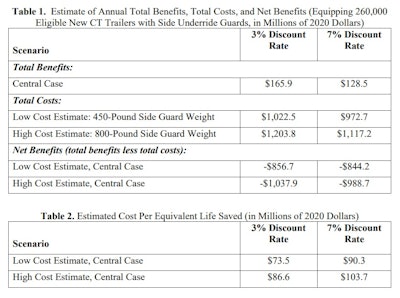 Not mentioned by NHTSA in detail, but certainly aired by OOIDA and many truckers who commented, was the issue of operational feasibility.
OOIDA highlighted point of view from longtime trucker Dave Sweetman. "Side underride guards are a very bad idea for many reasons," Sweetman said. "I cross railroad tracks with tall 'humps' that will definitely damage or trap low-belly trailers with underride guards. I also load\unload at docks at entertainment venues that will damage or trap the trailer."
Andrew Curtis, among many truckers commenting on the NHTSA advance notice, specified a few practical concerns as well.
The guards could "limit a driver's ability to easily inspect equipment located under the trailer," he wrote, a possible detriment to effective maintenance for safety and other concerns. "Underride guards create challenges for trucks navigating railroad and other grade crossings and high curbs, backing in to sloped loading docks."
In February, a truck hauling hazmat was struck by a train on I-10 in Arizona, killing the driver and causing evacuation orders in the area. Overdrive frequently has the unfortunate duty of reporting on trucks getting stuck on railroad tracks.
The NHTSA's report makes no mention of rail crossings or low clearances. Overdrive reached out to the NHTSA for comment on feasibility concerns with side underride guards and tight clearances, but did not hear back in time for this report.
The broader DOT cost-benefit analysis, however, does mention rail crossings, assuming no trips would be rendered infeasible by ground clearance issues. If they are, "the costs associated with [commercial truck] trailer side guards would increase," the report said.
Sweetman also worried about what all owner-operators have been contending with the last couple of inflationary years: Ever-higher costs with flat-to-dwindling revenues to set again them.
"In addition," Sweetman said, "the cost of the equipment to add underride guards to trailers would be most definitely cost-prohibitive, adding unnecessary and unrecoverable expense to equipment."
Owner-operator Matt Jackson, in his comment to the regulatory docket, foresaw "added cost and added weight" with no real safety benefit, he wrote. "The problem in most semi/car accidents are due to the driver of the car not paying attention or driving aggressively." He urged regulators to focus efforts in that direction, rather than "trying to pass added costs on to the trucking companies and independent owner-operators ... already feeling the squeeze of over-regulation and costs."
NHTSA asked a series of questions of all commenters with publication of the ANPRM. OOIDA provided lengthy answers to many in a document you can download via this link. Browse all comments via this link.
[Related: NHTSA begins trailer side-underride guard rule process]