Trucking news and briefs for Friday, July 21, 2023:
Bipartisan, bicameral letter slams EPA's Phase 3 GHG regs
Congressmen Doug LaMalfa (R-California) and Chris Pappas (D-New Hampshire) led 30 other members of Congress in sending a letter urging the Environmental Protection Agency (EPA) to reconsider its new Phase 3 Heavy-Duty Truck Rule.
Part of EPA's Phase 3 proposal is to electrify 25% of new long-haul trucks by 2032, as well as 35% of new short-haul regional tractors and 50% of vocational vehicles. The proposal also reopened the "Phase 2" GHG emissions regs to make them more stringent for model year 2027 trucks, and promulgates new emissions standards beginning with the 2028 model year.
Groups of U.S. Senators and Representatives have previously penned letters to EPA Chief Michael S. Regan asking his agency to withdraw the rule, to no avail so far. The latest letter is signed by 31 representatives (27 Republicans and four Democrats) and one Senator (Mike Braun, Republican of Indiana).
[Related: CTA's Shimoda: Start working on CARB regulation requirements now]
In the latest letter, the members of Congress said they "have heard from constituents concerned that this rule will fundamentally transform the truck industry and should more fully take into consideration the affordability of future heavy-duty trucks and the ability of our nation's commercial charging infrastructure to support the upcoming demand in its effort to drive modernization of America's aging truck fleet."
The letter criticizes EPA for bypassing the advance notice of proposed rulemaking stage, in addition to denying requests to extend the comment period on its notice of proposed rulemaking.
"There is much at stake for the truck industry, its employees, and the economy, and the EPA should take the time needed to carefully consider the concerns raised during the rulemaking," the letter states.
The biggest concern presented by the Congressmembers was EPA's cost estimates in the proposal. The letter notes that EPA did not consider the 12% federal excise tax (FET), state sales tax or insurance premiums for prospective owners of zero-emission trucks. "The EPA should consider whether these important factors must be included in its analysis," the letter says.
[Related: FET repeal may hinge on truck safety, high ZEV cost and supply chain issues]
The group also flagged concerns about the need for charging infrastructure to meet the transition to ZEVs. "Complex distribution system upgrades will be required to support EPA's proposed rule, which will require a whole-of-government approach," the Congressmembers cautioned. "EPA should consider real-world availability and the speed that we can build the required ZEV infrastructure."
Ultimately, trucking business owners "will not purchase heavy-duty trucks they cannot afford, charge, or that otherwise do not meet their needs" the reps said, urging EPA to more carefully consider those concerns.
[Related: 'Destined to fail': Trucking sounds off to EPA on new Phase 3 greenhouse-gas regs]
Nikola's Phoenix Hydrogen Hub project acquired
Nikola Corporation, via its HYLA brand, and green energy and metals company Fortescue Future Industries (FFI) announced Thursday that FFI will acquire Nikola's Phoenix Hydrogen Hub (PHH) project.
FFI will bring the capital and resources required to fully develop the project, Nikola said, and the parties are working towards a hydrogen supply agreement to support Nikola's Class 8 zero-emission trucks.
The agreement is fully aligned with Nikola's capital efficient energy strategy to collaborate with partners interested in the hydrogen energy ecosystem that Nikola is pioneering.
The PHH is a fast-to-market, green hydrogen project located near Phoenix, in Buckeye, Arizona, and is expected to be built in phases to scale alongside demand. The project is expected to progress towards its first hydrogen production by the middle of this decade.
"Nikola's priority is to see more zero-emission trucks on the road, and this acquisition by FFI will greatly strengthen one of the country's first and most important hydrogen hubs," said Nikola Corporation President and CEO, Michael Lohscheller. "FFI's acquisition of this project is a significant milestone as we work to create an all-important local connective infrastructure to accelerate the use of hydrogen to fuel zero-emission vehicles."
PHH marks the first project announced as part of the Memorandum of Understanding signed in January 2023 between the two companies to collaborate on and evaluate the co-development of large-scale U.S. green hydrogen production facilities.
FFI and Nikola are working towards a hydrogen supply agreement to support Nikola's hydrogen fuel cell electric vehicle demand. The large-scale deployment of hydrogen as a zero-emission fuel into the transportation sector, is expected to benefit from both the hydrogen tax credit in the federal Inflation Reduction Act and state level incentives such as the Low Carbon Fuel Standard in California.
Schneider expands Board, names new member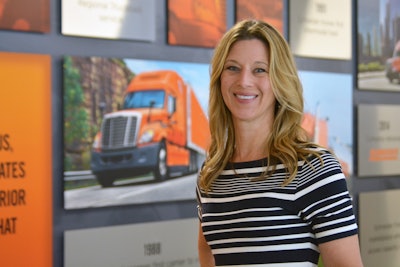 Schneider (CCJ Top 250, No. 9) has increased the number of Directors on its Board to 10 and appointed Julie Streich as a director. Both actions are effective immediately. The Board also appointed Streich to the Audit Committee.
Since 2021, Streich has served as Senior Vice President and Chief Financial Officer for Barnes Group Inc., a global manufacturer of highly engineered solutions for aerospace and industrial applications. She previously served as Senior Vice President of Global Finance Operations at Centrica PLC from 2017 to 2020 and as Chief Financial Officer at Direct Energy Home from 2015 to 2017.
Streich was elected by the Board based upon her background and proven leadership in corporate finance, financial planning and analysis, mergers and acquisitions, business development, and process automation in a variety of multi-billion dollar publicly-traded companies in the energy, consumer services and manufacturing sectors.