Trucking news and briefs for Wednesday, Aug. 16, 2023:
FMCSA investigation finds nearly 200 improperly inspected propane tankers
A Federal Motor Carrier Safety Administration investigation at Meeder Equipment Company Inc./Ransome Manufacturing in Fresno, California, found that 186 DOT-specification cargo tank motor vehicles had been improperly inspected by the manufacturer.
According to a joint notice from FMCSA and DOT's Pipeline and Hazardous Materials Safety Administration (PHMSA), the tankers were primarily MC-330 and MC-331 CTMVs used to transport propane.
FMCSA's investigation found that the tankers had been tested and inspected by a person who did not meet the qualifications of a "Registered Inspector." The affected units must be retested and reinspected by a qualified "Registered Inspector" to ensure they are compliant for hazardous materials transportation.
Federal regulations require that MC-330 and MC-331 CTMVs transporting propane must successfully undergo internal and external visual inspections, and leakage and pressure tests at certain intervals specified in the regulations. The inspections and tests conducted on the 186 tankers in question included internal visual inspections and pressure tests dating back to July 2018, and external visual inspections and leakage tests dating back to July 2022.
Anyone in possession of a potentially affected tanker should contact Meeder Equipment/Ransome Manufacturing to determine whether it's in compliance with hazmat regulations. The company can be contacted at engineering@ransomemfg.com or by phone at (559) 485-0979.
FMCSA and PHMSA noted, however, that "no imminent safety vulnerabilities have been identified to date," so the agencies, through Nov. 10, will not be taking enforcement action against anyone using the tankers.
Eaton rebrands Vehicle Group
Eaton announced Tuesday a new name for its Vehicle Group and eMobility businesses.
Eaton's newly-named Mobility Group represents the company's focus on providing solutions across the propulsion spectrum and meeting the evolving needs of its customers from internal combustion to electrified, or a combination of both.
"Our new name, Mobility Group, leverages our 100-plus years of diverse experience in the vehicle space and Eaton's extensive electrical background at a time when the industry is quickly becoming a mixed market of internal combustion and electrified vehicles," said Pete Denk, president, Eaton's Mobility Group.
Eaton will continue to offer traditional powertrain solutions as manufacturers and the industry determine optimal propulsion systems based on market demands. To support increasing degrees of electrification, the Mobility Group offers a suite of technologies, including power distribution solutions, power electronics and transmissions that improve safety, efficiency, and performance.
Power connection offerings were introduced following the acquisition in 2022 of Royal Power Solutions, a global leader in the development and production of critical high-precision power- and signal-distribution components. The principal markets for the Mobility Group are original equipment manufacturers of on- and off-highway vehicles and aftermarket customers.
Transervice awards $10,000 in scholarships
Transervice Logistics (CCJ Top 250, No. 155) recently awarded four $2,500 scholarships to children of its employees for the 2023 fall term for the college of their choice.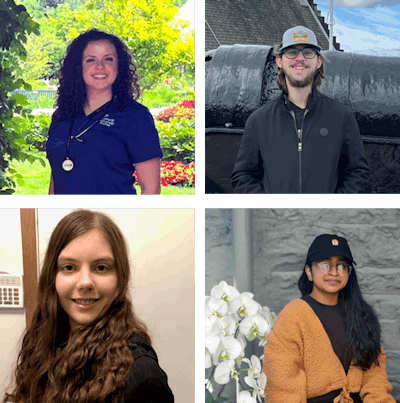 The executive team at Transervice chose the winners based on their academic achievement, community involvement, and overall character. Applicants were also required to submit an essay about why they felt they deserved the scholarship.
"We consider our employees part of the Transervice family," said Gina Lydakis, Vice President of Human Resources. "Each winner exemplifies a strong commitment to their education and communities, and we are proud to be able to support the educational journey of these inaugural scholarship recipients."
The scholarship award recipients include:
Nicoletta Boik, a nursing major attending Elmhurst University. She is the daughter of Kevin Boik, Mechanic for Transervice's Preferred Service division servicing Jewel Food in Melrose Park, Illinois.
Alex Grzybowski is majoring in international relations/military attending Boston University. He is the son of Kelli Grzybowski, finance manager for the corporate office in Lake Success, New York.
Anna Singh is majoring in engineering attending City College. She is the daughter of Naipaul Singh, Foreman for the company's Maspeth Service division servicing Bimbo Bakeries in Queens, New York.
Katie Lindeman is a medical major attending College of DuPage. She is the daughter of Thomas Lindeman, operations supervisor for Transervice's Preferred Service division servicing Jewel Food in Melrose Park, Illinois.