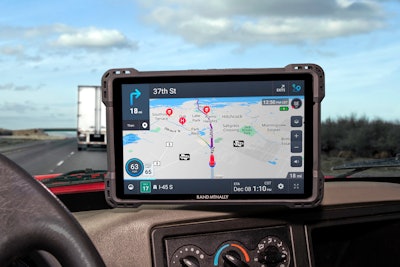 Rand McNally
Rand McNally has released a new in-cab tablet with enhanced navigation and advanced features for professional drivers.
The tablet features upgraded Rand Navigation with 33% more truck-specific road data than other GPS providers; a large format with a high-definition 10-inch screen with enhanced mapping and graphics for ease of use; personal-grade strength with a removable, industrial-grade tablet guard that has reinforced corners, a heavy-duty Corning Gorilla Glass screen and three strong mounting options; and enhanced trucker tools, including an upgraded camera for driver and vehicle inspection reports and receipt tracking.
The tablet was engineered with driver input and was tested with long-haul drivers over the road prior to its release.
"In spending time and communicating with thousands of drivers, we heard loud and clear what is most valuable to professional drivers," said Rand McNally Vice President of Product Management Ivan Sheldon. "Feature overload is not helpful. Instead, drivers want more accurate mapping and navigation, easier-to-see screens, louder voice guidance and a more durable device that lessens the risk of breakage if dropped. Those were our top goals in creating the TND™ Tablet 1050."
The company said the TND Tablet 1050 is the most solid, driver-designed TND it has launched since creating the truck navigation device category in 2009.