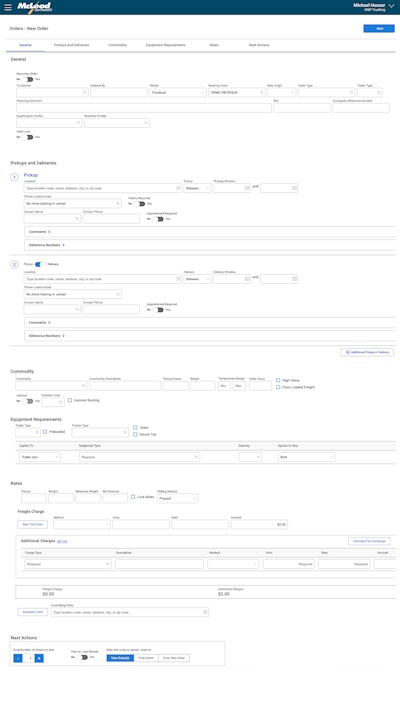 McLeod Software
When McLeod Software Corp. came on the scene almost four decades ago, the company was replacing typewriters. The provider of transportation dispatch, accounting, operations and brokerage management software, and document management systems rewrote its product line between 2000 and 2003 and is now many "refreshes" deep with plans to launch a new web browser user interface over the next few years across its PowerBroker and LoadMaster operations systems, which have grown to host more than 1,100 companies.
McLeod made the announcement this week, along with several other updates, at its 2022 user conference in Nashville, which drew a record-setting number of attendees at 1,500-plus and had more vendors compared to previous years, representing the company's growing integration partner roster.
One of the TMS provider's latest integration partners is Isaac Instruments. After publishing an open application programming interface (API) for digital freight matching within the PowerBroker system almost two years ago, McLeod said it is publishing the same type of open API for mobile communications, ELD systems and trailer monitoring and tracking. The first two deployments of this open mobile communications API with the new LoadMaster Symphony Mobile Communications Service (SMCS) include Isaac for tractor telematics, hours of service information, driver dispatch workflow and document image capture as well as TGI Connect for its trailer telematics solution.
All new integrations for LoadMaster with both ELD/mobile communications and trailer telematics will employ this new standard Open SMCS API going forward, allowing any qualified telematics provider to develop a supported integration solution with McLeod.
"Our goal is to be easy to interface, to have the most and the best interfaces," said McLeod Software CEO Tom McLeod. "Our API will eliminate that bottleneck and allow us to get vendors up and running more quickly."
Like its APIs, the new web user interface will launch with PowerBroker as PowerBroker Web in early 2023, following a pilot with first-time users. The interface will later be released on the LoadMaster and LoadMaster LTL systems, capturing McLeods full product line.
McLeod said the company has been able to preserve its robust functionality throughout the many refreshes its systems have been through, and the new interface will allow users to do even more, "finding the magic," McLeod said, where users can get jobs done quicker with automation.
"The new user interface, we're not just putting a new skin on … We're not just giving you the same functions as before. We're taking the time with this new functionality to improve workflows – develop role-based workflows that guide the user and streamline the user's interaction with the system," he said. "We'll be able to do more and more on a native basis. The user involvement and user feedback has been key to help us get there."
McLeod is expanding business process automation with carrier invoice processing as part of its Logix Solutions products as well to help carriers get paid faster and improve efficiency for 3PLs. The new module, which uses optical character recognition technology to mitigate the need for various images to be reviewed by people, helps 3PLs and brokers collect, identify, index and match carrier documents electronically to speed the carrier payment process. The system also works to help back-office staff handle exceptions, such as multiple loads on a single invoice or OS&D claims associated with a load.
In addition to automation, McLeod is also investing in expanding its artificial intelligence and machine learning capabilities. A major focus in that area is market insights to help carriers make better pricing decisions.
McLeod noted that APIs and cloud-based technology enable the company to aggregate anonymous customer data for its market insight products like its MPact trucking lane and rate analysis tool. The company in April released an advanced version called MPact PRO, which lets the carrier or 3PL benchmark themselves against the rest of the market and gain a deeper understanding of market-rate dynamics in any given origin, destination or lane.
McLeod is working to develop predictive pricing that would offer foresight into rate trends several days into the future based on historical factors showcased in McLeod's data. McLeod's truckload market rate dataset is derived daily from over 1,000 companies that contribute rates.
"That's the roadmap for what we can do with machine learning," said McLeod Chief Information Officer Ken Craig. "You're going to be seeing everybody coming up with new little point solutions every day, but what data is being used to get that? Who knows how good that data is, or how old it is, or where they got it from. Our data is stellar – some of the best I've seen – and only our customers can use it."
McLeod has made other moves to help its customers improve performance.
That includes a major overhaul for parts of the technical architecture of its systems, specifically the application servers and messaging systems that are the foundation for the functional software applications. The overhaul, completed in 2021, gives customers better ability to scale and grow their systems alongside McLeod's growth.
The company, which exceeded 600 full-time employees earlier this year, saw double-digit growth in 2021, and its 2022 top line revenue continues to grow at an annual rate exceeding 20%.