This is the third of a four-part series that looks at telemetry data as a maintenance tool in trucking, the information service providers seek to provide fleets, and how fleets use that information. The series is based on a survey conducted this spring by CCJ parent company Randall Reilly. The results can be downloaded here. Additional coverage in this series includes Maintenance telematics: New-age battleground for OEMs and the aftermarket, Technology seeks role as fleet maintenance partner, and What are fleets looking for from maintenance telematics?
Trucking fleets have long turned to technology in search of information that keeps semis on the road and off the rack, but many find that there's no single solution that checks every box.
According to a survey conducted earlier this year by CCJ parent company Randall Reilly, more than 70% of fleet respondents said their trucks came factory-equipped with vehicle fault code monitoring at the time of purchase, yet nearly half (45%) have turned to third-party or aftermarket telematics services to gather maintenance-related data from trucks in their quest to improve uptime (68%); reduce costs by solving maintenance issues before they lead to major repairs (64%); and allow maintenance to be scheduled when convenient (48%).
No one-size fits all
Jason Spangler, fleet manager for Mint Hill, North Carolina-based Blue Dot Readi-Mix, manages his nearly Kenworth-exclusive fleet of mixers through multiple portals because he said it takes multiple data streams to get the kind of action items he needs to keep everything moving on time, and Blue Dot has almost no margin for error or delay.
"Truck down issues for us are critical – and they're critical for everybody – but for us in particular because we have a finite time," he said. "We're fighting against chemistry and that chemical reaction; we can slow it down a little bit, but there's a finite time for us to get the product to the customer."
Spangler said Kenworth's TruckTech+ Service Management System helps him anticipate issues with real-time data reporting on fault codes, allowing his team to more quickly respond to problems while also building a bank of common faults and repairs for proactive maintenance planning.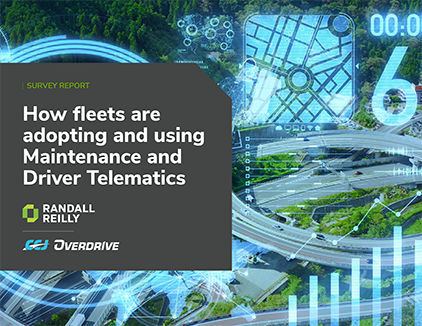 How are fleets and owner-operators using telematics? Find out with this comprehensive research from the editors at CCJ.
Download to access insights on what telematics solutions fleets/owner-operators are using, how telematics influences business decisions and more.
"I'm notified every time a truck throws a fault code, and I've basically gone into Paccar Solutions, which is kind of the portal to the PeopleNet gateway, and I've categorized our fleet. I've basically segmented them out by location, and then I've assigned those locations to our respective shop mechanics that are assigned to those yards. That's where it really helps us; it's kind of like our triage mechanic."
Computerized Maintenance Management System software from eMaint creates a predictive maintenance model for the fleet, and EROAD provides telematics, preventive maintenance scheduling and job cost analysis.
Blue Dot's five full-time mechanics manage 126 trucks, and Spangler said for that to be done effectively, he needs to get the data in real time.
"We were heavily reliant prior to me coming here on just using the old pre-trip/post-trip booklets, and [drivers] give it to the shop mechanic," he said. "We have integrated EROAD with tablets in every truck so our drivers are doing electronic pre-trip and post trips. They're flagging issues into that system, and I get notified from them, which helps us build our maintenance schedule and repair schedule."
Jaksa Panic, vice president of Ontario, Canada-based refuse rental company Big Truck Rental said his company too leans heavily on multiple telematics providers, including Geotab paired with the software driven by Optimal Fleet Health (OFH) and Mack Trucks' GuardDog Connect.
"We've spent an extensive amount of time and money building that program out, and really what we're looking to drive through that program in its simplest way is predictive data back to us," he said.
While the technology involved in a telematics suite is fairly sophisticated, Panic said the goal is straightforward and uncomplicated: "to drive out waste in our system specific to downtime ... so being able to catch issues before they're catastrophic or de-rating trucks to a point where we've got to get our users out of the truck and no longer using the asset because something has gone wrong with the truck."
Specific to Kenworth's telemetry data, Spangler said he's mostly concerned with information flowing from the engine control module because the fleet is three years into going all-on in Paccar's MX engine.
"We're learning these motors. We're still trying to figure out what they're telling us. The trucks have their own story, and they're telling a story, and we're trying to decipher it," he said, "and what [TruckTech+] has allowed us to do is just build that data set. So I am keeping a historical record of these fault codes that these engines are throwing, and then we can go back and see what the repairs were. So then it just makes us faster."
Washing that data through Paccar's telematics platform has enabled Blue Dot to identify and capture more warranty repair work, saving the company thousands of dollars and expediting the repair itself.
"For instance, we (recently) got a cascading fault code of an EGR code on a truck. We had seen that [a week earlier], and we thought we had it repaired based on historical records of those fault codes. What we could do previously that fixed it, it hasn't fixed it. So we've got a truck in de-rate.
"We're able to send the mechanic to the truck, and then we're starting our triage program to see, 'Okay, is this going be outside of our scope of work?' Because we're going to dig in just to the point where we think this is a warrantable repair, and then what we do is take that data set, take the session reports we're creating – I take screenshots of the fault codes and impact and solutions from TruckTech+ – and I'll put that into a service request to our Paccar dealer. So when we hand off a truck, we're giving them a great head start."
The OFH component gives Big Truck Rental a breakdown on a simplified green, orange or red scale of its fleet, "clarity into our system, which is directly tied into our program, so that we've got visibility without having to go to a third platform to be able to capture that data," Panic said.
Mack's GuardDog, Panic said, has been valuable "in the sense that we're getting live updates from the Mack team whenever things do occur. It's just not right in our face. We do have to go to a secondary source, whether it's email or phone call or whatever the case it may be."
'It takes a village' approach
There are benefits to having both OEM telematics and a third-party aftermarket telematics provider, and most OEMs have begun to partner with aftermarket providers to fill the gaps.
"We partner with leading OEMs and also have many compatible participating telematics service providers who offer our digital solutions to their subscribers through simple integrations with our proprietary software applications," said Ryan Kikendall, director of global quality at Cummins. "Cummins is not in the business of telematics … We intentionally design our digital applications to work across different telematics hardware. And yes, we do offer our own first-fit option called Acumen, but our software applications can also plug into other OEM provided telematics hardware or third-party telematics providers."
Volvo partners with Geotab and Verizon. Navistar also partners with Geotab, as well as Samsara and Cyntrx, with plans to integrate with Platform Science this year. Paccar has also partnered with Platform Science, integrating its Virtual Vehicle into Kenworth's vehicle portfolio to provide customers with a connected platform that offers access to a variety of third-party applications that can help customers improve operating efficiencies. Daimler too has partnered with Platform Science, which leverages Daimler's telematics hardware to reduce complexity, delivering the important applications fleets need while allowing Daimler as the OEM to concentrate on services that leverage its expertise, said Len Copeland, product marketing manager for Daimler's Detroit Connect.
Netradyne's Chief Marketing Officer Barrett Young said OEM and aftermarket telematics can and should work hand in hand because they each provide different, yet valuable, data insights.
For example, aftermarket provider Noregon partners with major heavy-duty trucking industry OEMs and Tier I component suppliers to provide enhanced telematics data.
"While OEM telemetry may only monitor their component performance, Noregon's TripVision provides insights into all vehicle components, including engine, transmission, brakes, ADAS and aftertreatment to identify health, safety and performance issues in a real-time holistic manner," said David Shuttleworth, product manager at Noregon. "Most fleets have a mix of vehicle and engine type. Since TripVison is available for all makes and models of heavy trucks, fleet managers have visibility to all the vehicles in their fleet, regardless of the vehicle manufacturer.
"OEM dealers can use TripVision to monitor leased and sold vehicles to alert customers of health/safety issues, therefore increasing parts and service sales and improving customer satisfaction for all vehicle makes," he added. "TripVision is also TSP agnostic, providing a single pane of glass for fleets and dealers that want to merge disparate data feeds, creating a user experience that offers continuity and reliability."
OEMs seem to have a heavier focus on fault codes, said Shiva Bhardwaj, CEO of Pitstop. But OEMs say they have deeper insights into those fault codes than what an aftermarket provider can offer.
Young said Netradyne has an active OEM department that works specifically on integration partnerships.
"As the OEMs and the manufacturers begin to see a shift in demand and the importance of adding additional technologies, that's where the collaboration and the marriage of the aftermarket technologies and the OEMs begin to blur," he said.