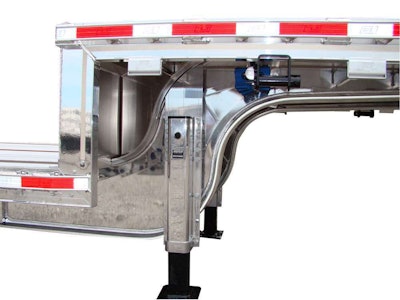 East Manufacturing announced Thursday at the Mid-American Trucking Show that JOST International's AX150 Alumilight Series of Landing Gear will be standard on all East BST, BST II, MMXTM and Narrow Neck flatbed trailers and all BST, BST II and XLD drop deck trailers.
"(JOST) advanced technologies provide increased payload, which coincides with our mission to provide optimum payload for our customers," says Dave de Poincy, president.
The JOST Alumilight series aluminum landing gear is up to 50 pounds lighter per set than competitive landing gear for added payload and corrosion resistance, the company says.
The AX150 Alumilight Series is Maintenance Free for 10 years, and comes with a 10 Year Warranty.