Hendrickson Trailer Commercial Vehicle Systems rolled out its new VANTRAAX ULTRAA-K, the industry's strongest and lightest slider system, at the Mid-America Trucking Show in Louisville, Ky. Thursday.
The system will be available beginning July 2014.
"The ULTRAA-K truly represents game-changing technology that redefines the standard for ride quality low-cost operations for trailers," says Perry Bahr, vice president and general manager of Hendrickson Trailer Commercial Vehicle Systems.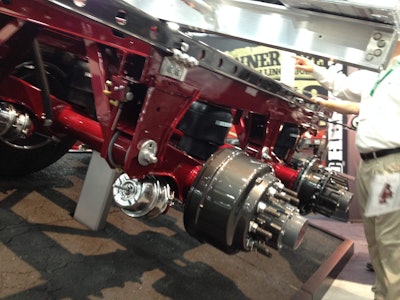 Bahr says the ULTRAA-K is stronger than VANTRAAX-HD models and lighter than any other slider system in the industry by nearly 100 pounds. The high-tech, hot-dip coating process allows Hendrickson to back ULTRAA-K with a 10-year structural corrosion warranty.
Instead of shock absorbers, ULTRAA-K uses Zero Maintenance Damping (ZMD) air springs for suspension damping. With no moving parts, these unique air springs are designed to provide uniform and consistent damping levels over their lifespan.
Pivoting mud flap brackets are standard on ULTRAA-K.