Trucking news and briefs for Wednesday, July 6, 2021:
More than 120,000 Freightliner, Western Star trucks recalled
Daimler Trucks North America is recalling more than 120,000 trucks for an issue that could cause a loss in electrical power and an unintended engine stall, according to National Highway Traffic Safety Administration documents.
The recall affects approximately 122,056 model year 2019-2022 Freightliner Cascadia P4, 2021 Western Star WH126, 2020 Western Star WJ121, and 2021-2022 Western Star 49X trucks in which the battery cable terminal may break, resulting in a loss of electrical power and unintended engine stall.
Dealers will repair or replace the battery cables, free of charge. Owners can contact DTNA customer service at 1-800-547-0712 with recall number FL-893. NHTSA's recall number is 21V-481.
Peterbilt gets EV order from Sunbelt Rentals
Peterbilt has received an order for five Model 579EV trucks from Sunbelt Rentals for use delivering rental machinery to and from jobsites across the country.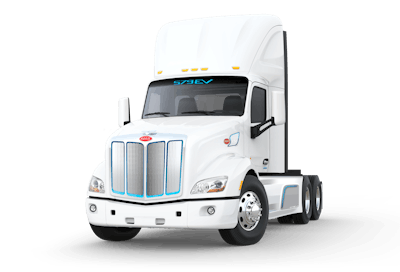 The order is the first step towards Sunbelt Rentals' goal of reducing their greenhouse gas emissions 35% by 2030, the companies say.
"Sunbelt Rentals isn't just making a commitment to purchase battery electric class 8 trucks. We are striving to be a leader in environmental responsibility and sustainability, not only in our industry, but in the overall commercial market," says Eric Jahnsen, director, Transportation Fleet at Sunbelt Rentals. "In order to exceed our goals, we need to start operating zero emission vehicles immediately. Peterbilt is giving us the opportunity to put battery electric trucks on the road as soon as we can put the infrastructure in place to support it."
The all-electric Peterbilt 579EV provides a range up to 150 miles. When used in conjunction with a recommended DC fast-charger, the battery packs recharge in three to four hours.
Groendyke increases pay for certain drivers
Groendyke Transport (CCJ Top 250, No. 97) announced late last week that it has increased pay rates for some of its drivers as Phase 2 of a larger driver pay initiative.
This second phase affects Groendyke drivers hauling refined and bio fuels, aviation gas and jet fuel, and asphalt, increasing their pay an average of 6% overall. It represents a $1.32 million investment, according to the company.
Coupled with Phase 1, which raised pay for the tank truck carrier's chemical and liquid petroleum gas drivers, Groendyke has now invested about $3.5 million in driver pay increases in 2021.
Details on a third phase of driver pay changes will be released in the coming months, the company says.
Large truckload fleet raises driver pay
Cargo Transporters (No. 182), a regional and national truckload carrier located in North Carolina, increased pay for its over-the-road drivers as of Sunday, July 4. It's the second driver pay raise this year; the first was in January.
Cargo Transporters increased solo driver pay 2 cents per Rand McNally practical route mile on all dispatched miles, increasing starting base pay to 52 cents per mile.
Team driver pay increased 1 cent per mile on all dispatched miles. Along with the rate per mile increase, the productivity bonus rose to 3 cents per mile, according to the company.