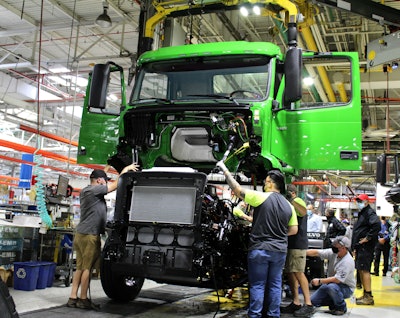 United Auto Workers (UAW) Local 2069 members on Wednesday ratified a new six-year labor agreement, ending a strike at Volvo Trucks North America's New River Valley (NRV) plant in Dublin, Virginia, that had turned the corner toward six weeks.
Local 2069 members last week rejected a third proposed labor agreement. That deal, which was okayed by UAW leadership, was shot down with 60% 'no' votes locally, but put back before the membership Wednesday as Volvo's "last, best and final" offer.
"Our focus now will be on getting trucks to customers as quickly as we can, and strengthening our relationship with our employees." NRV Vice President and General Manager Franky Marchand
Local members Wednesday ratified the common overall agreement and hourly agreement by a margin of 17 votes each. Both failed last week 60% to 40%. Salary language failed Wednesday by 14 votes. UAW members will return to work on their Sunday and Monday shifts, but have the option to return as soon as 6 a.m. Thursday, July 15.
"The democratic process played out at Volvo Trucks. UAW Members stood together through their strike and now the overall agreement and hourly agreement have been ratified despite the company's actions earlier in the week," said Ray Curry, President of the UAW and Director of the Heavy Truck Department, adding the UAW Constitution provides for an established process that will work to address the concerns raised by members over the salary agreement.
Volvo on Sunday said it would begin this week ramping up new truck production, and would honor the terms of its third offer to any UAW members who returned to work, even though the UAW strike was formally ongoing.
Volvo Senior Vice President of Communications John Mies said Wednesday afternoon that some workers had returned, but declined to comment on how many. Brian Rothenberg, UAW International director of public relations, noted "it was less than a handful."
Volvo's NRV plant employs more than 3,300 people, about 2,900 of whom are UAW members.
The plant is in the midst of a $400 million investment for advanced technology upgrades, site expansion and preparation for future products, including the VNR Electric truck. The plant has added 1,100 jobs since the current union agreement was implemented in 2016 and is on track to have a net increase of approximately 600 positions this year.
Contract negotiations between UAW and Volvo started Feb. 8. UAW Local 2069 workers went on strike Saturday, April 17, following the lapse of a 30-day extension to a five-year contract that expired March 15. The union strike ended April 30 after a two-week work stoppage when the parties reached a tentative agreement on a new five-year deal, but local members ultimately rejected the proposal.
The new six-year agreement includes elimination of the second tier; health care premiums protected for the life of the agreement; provides protections around shift scheduling and plant operations; as well as providing a major signing bonus and aggressive annual wage improvements every year of the agreement.
"This agreement allows us to continue providing our employees with a great quality of life, with guaranteed wage growth and excellent benefits," said NRV Vice President and General Manager Franky Marchand. "It will also help secure the plant's long-term growth and sustainability. Our focus now will be on getting trucks to customers as quickly as we can, and strengthening our relationship with our employees."