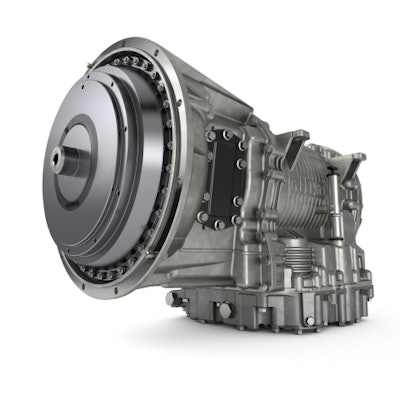 Trucking news and briefs for Friday, Sept. 24, 2021:
Cascadia adding Allison transmission to options
Daimler Trucks North America (DTNA) will make the Allison 3414 Regional Haul Series (RHS) available beginning this month on Cascadia models spec'd with a
DD13 Gen 5 engine
. Production is set to begin as early as January.
Mary Aufdemberg, DTNA general manager of product strategy and market development, noted the addition of the Allison RHS to Freightliner's powertrain offerings was a boon for weight-conscious segments where acceleration and maneuverability are also critical.
The Allison 3414 RHS is an uprated variant of Allison's proven 3000 Series fully automatic transmission, offering up to 8% fuel economy improvement over the Allison 3000 Highway Series and 25% faster acceleration when compared to automated manual transmissions (AMTs). Rohan Barua, Allison Transmission vice president of North America sales, global channel and aftermarket, said increased horsepower and a lighter build translates into more stops, more loads and more productivity, especially in frequent start-stop duty cycles. Additionally, the 3414 RHS is the lightest transmission in the segment at up to 11% lighter than the closest competitor.
The 3414 RHS is a drop-in solution for any chassis with a current Allison 3000 Series option – with the same form, fit, and connections. The 3414 RHS includes Allison's five year, 750,000 mile warranty, including towing, with no exclusions on individual components. With no clutches to replace, fleets will be free of unplanned downtime due to expensive clutch replacements.
Alabama Motor Express expanding
Ashford, Alabama-based Alabama Motor Express recently opened a new terminal in Jackson, Georgia.
The terminal is located about 40 miles south of Atlanta. Its trailer pool will include about 60 tractors and even more trailers in a secure, monitored yard. The company said it seeks to fully staff the terminal with more than 50 logistics and operations professionals, as well as seasoned, certified drivers. The team will be supported by a growing parent company with logistics offices and terminals throughout Georgia and Alabama. AMX expects that with more drivers with more knowledge and insight about the region, the company can improve service levels while offering drivers more flexibility to balance work and home.
AMX covers all 48 continental states and Canada with 250+ power units and 600+ trailers.