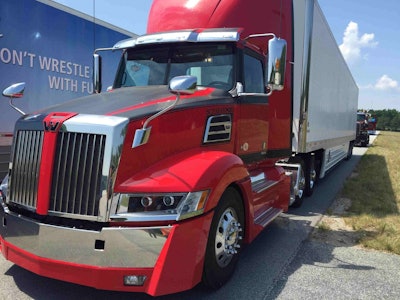 Following a run of just six years, Western Star is shelving its model 5700XE the company confirmed Wednesday.
"DTNA has elected to discontinue production of the Western Star 5700 XE effective with the end of the 2021 calendar year," the company said via emailed statement. "Since 2015, the 5700XE successfully answered the market need for the previously unaddressed premium on-highway segment, and Western Star will continue to serve that segment and our valued customers well into the future."
Western Star last year pivoted to become Daimler Trucks North America vocational brand and has debuted two new models in the last 12 months – the 49X and the 47X.
A shift in corporate alignment coincides with a generational supply chain crisis that has held up the production of new trucks for most of this year and is expected to trickle into much of next. DTNA said it expects to replace the outgoing 5700XE model "in the near future."
When the model made its debut in the Fall of 2014, the sculpted and sleek 5700XE – XE is for Extreme Efficiency – was Western Star's official foray into the aero-tractor following three years in development. The end result was a tractor heaped with airflow and a Detroit-exclusive powertrain.