Trucking news and briefs for Thursday, Nov. 10, 2022:
Autocar integrates smart gauge display into CNG trucks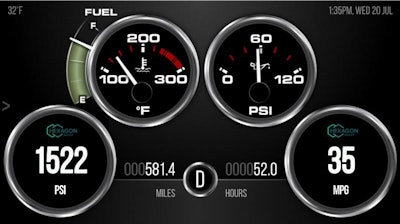 Severe-duty vocational truck manufacturer Autocar is now offering its compressed natural gas (CNG) customers a new way to view crucial information about their fuel management module system.
In partnership with Hexagon Agility, a global provider of renewable natural gas fuel systems, Autocar software engineers integrated the Blue iQ smart gauge into the Autocar Always Up display.
The integration gives operators access to real-time information regarding the truck's fuel management system. The information provided can be customized by the end user and includes information such as:
Diesel gallon equivalent
Trip economy
Time to empty
Distance to empty
Fuel pressure
The Blue iQ smart gauge integration effort consolidates all relevant information into one screen so the operator can easily reference the truck information in one place. As part of the integration effort, Autocar has introduced the ability to read CNG diagnostic information from the Always Up display.
The integration of the system removes the prior need of wiring and retrofitting additional CNG gauges and inaccessibility of necessary information by keeping it all in a convenient location. This aids in eliminating the need for extra tools when troubleshooting issues, as well as improves diagnostic time.
"We are excited to offer our CNG customers a new way to monitor the performance of their Autocar trucks with an integrated solution that helps operators better understand their CNG fuel system," said Andrew Taitz, chairman of Autocar. "Autocar and our customers have played a significant role in the shift toward alternative fuels in their respective vocational markets, and we are proud to lead the refuse industry in 3rd party system integration."
Florida DOT allowing emergency response trucks to bypass weigh stations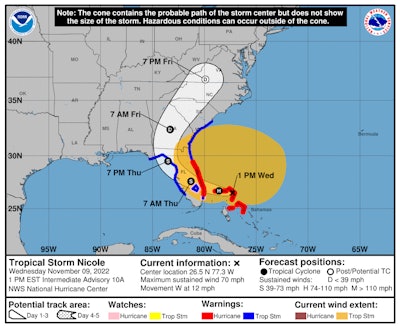 Ahead of Tropical Storm Nicole, which is expected to make landfall along Florida's east coast overnight Wednesday into Thursday, the Florida Department of Transportation is allowing emergency response vehicles to bypass weigh stations in the state.
FDOT's memorandum to motor carrier size and weight personnel in the state says emergency vehicles, including but not limited to utility vehicles, bucket trucks and supply trucks responding to Tropical Storm Nicole are given authorization to bypass all FDOT weigh stations through Nov. 18.
The authorization does not apply to vehicles that require a permit to operate in the state, and it does not relieve size and weight restrictions.