Trucking news and briefs for Thursday, June 9, 2022:
TCA's annual Safety Professional of the Year Award goes to FTC Transportation's Emory Mills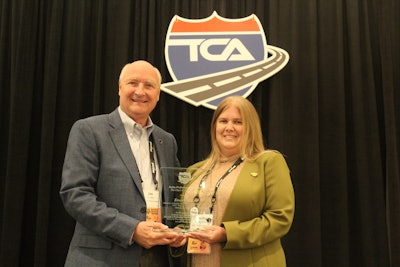 The Truckload Carriers Association (TCA) has awarded FTC Transportation's Director of Safety and Driver Administration Emory Mills as its 2022 TCA Safety Professional of the Year — Clare C. Casey Award recipient. The announcement was made during TCA's 41st Annual Safety and Security Meeting in Nashville, Tennessee.
The honor is bestowed upon a trucking industry professional whose actions and achievements have made a profound contribution to enhancing safety on North America's highways.
"I'm extremely honored to have been selected for the Clare C. Casey Award and overwhelmed to stand alongside of previous award winners, colleagues in safety, who have been an amazing resource over the years and who have always freely shared their wisdom and experiences," said Mills. "My appreciation also goes out to the TCA team, who go above and beyond, and so many others in our great industry. Most of all, thank you to my family at home for their ongoing support, and to my FTC Transportation family whom it is truly my privilege to work alongside of each day."
Emory's career began at FTC in 2000, where she started in the fuel taxes and permits department. Years later, she moved into the safety space as a driver and safety coordinator advancing to driver and safety manager, to now her current position as director of safety and driver administration.
Prior to FTC, Mills worked at A&A Trucking/Haskell Lemon Construction, Red Rock Distributing/Save-A-Stop, and Oklahoma Tank Lines.
She earned her Certified Director of Safety (CDS) designation from the North American Transportation Management Institute (NATMI); OSHA Certification from Fred Pryor; and Reasonable Suspicion Certification from Great West Casualty Company.
"Emory is very deserving of this award as she works tirelessly to educate our team and maintain our safety record at FTC Transportation," said FTC President Greg Garen. "We have had an excellent safety record for many years in large part to Emory's guidance and dedication to safety and FTC Transportation. I could not be more proud for her getting the Clare C. Casey Award. She is an excellent example of how hard work makes one successful."
Nominees for TCA's award must exemplify leadership and demonstrate the goals of protecting lives and property in the motor transportation industry while serving their company, industry, and the motoring public.
The award is named after Clare Casey, a safety professional who actively served TCA from 1979 until 1989. He was devoted to ensuring that all truckload safety professionals build a strong safety network and was instrumental in forming the first annual Safety and Security Division meeting in 1982. The first Clare C. Casey Award was presented in 1990, one year after his death.
Owner-op petitions FMCSA for HOS exemptions
An individual owner-operator, Leland Schmitt Jr., is asking the Federal Motor Carrier Safety Administration for an exemption from five provisions of the hours of service regulations.
According to a notice set to publish in the Federal Register Thursday, June 9, Schmitt is requesting the exemption solely for himself for a five-year period and believes his safe driving record and experience demonstrate an equivalent level of safety as the regulations.
Specifically, Schmitt is requesting an exemption from the 10 consecutive hour off-duty time requirement; the 14-hour on-duty window; the 30-minute break requirement; and the 60 hours in 7 days and the 70 hours in 8 days limits.
FMCSA says Schmitt said the mandatory 10-hour off-duty break "goes against his natural sleep patterns, as his normal nighttime sleep while in the CMV is between five to seven hours."
The notice says Schmitt is currently leased to Clearwater, Minnesota-based D&E Transport and has been driving trucks for more than 30 years.
Once published Thursday, FMCSA will accept comments on Schmitt's request for 30 days at www.regulations.gov by searching Docket No. FMCSA-2022-0099.
New full-service Kenworth dealership open near Cleveland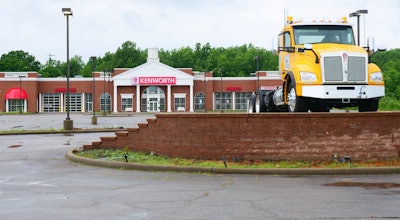 Hissong Group, Inc., is now offering expanded support to fleets and truck owners in the greater Cleveland, Ohio, market with the addition of its new Kenworth of Cleveland full-service dealership at 4850 Transportation Drive in Sheffield Village, Ohio. The new dealership is located approximately 25 miles west of downtown Cleveland.
The 36,000 square-foot building is situated on 7.5 acres with ample room for drivers to park their trucks. The facility features 16 service bays, a 10,000 square-foot parts retail display area, and a 10,000 square-foot space for parts storage to provide abundant parts availability.
The new dealership is located along I-90. In addition to serving truck customers passing through on I-90, Kenworth of Cleveland joins Kenworth of Richfield as the second full-service dealership to provide Kenworth truck sales, service and parts for customers located in the greater Cleveland area. Kenworth of Richfield is located approximately 22 miles south of Cleveland.
Kenworth of Cleveland's sales hours are Monday through Friday 8 a.m. to 5 p.m. and by appointment only on Saturdays. Service and parts hours are Monday through Friday 7 a.m. to 5 p.m. and 8 a.m. to noon on Saturday.
Hissong Group operates six Kenworth dealerships in central and northeast Ohio, including Ashland, Canton, Columbus, Richfield, Sheffield Village and Zanesville.
Schneider unveils new truck design aimed at empowering women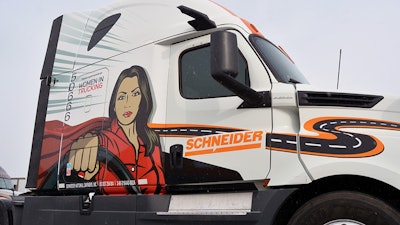 Schneider (CCJ Top 250, No. 8) recently unveiled its first tractor wrapped to support Women in Trucking (WIT), a nonprofit that encourages the employment of women in trucking, celebrates their success and minimizes obstacles.
The goal of the new tractor design, the company said, is to increase the number of women in the nation's driver pool, while supporting the professional drivers of today and tomorrow.
"To me, a woman in trucking means confidence, power, job security, adventure and role model," said Schneider truck driver and WIT Driver Ambassador, Kellylynn McLaughlin.
She will soon be traveling the country in the tractor with designs featuring an empowered woman wearing a cape behind the wheel with the messages, "Redefining the Road," "Safe, Strong, Independent," and "You Can Do It!"