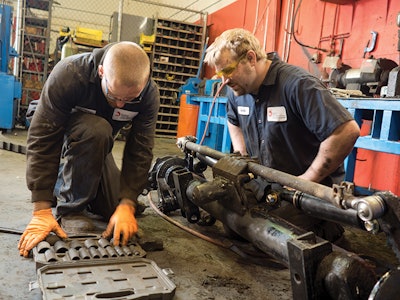 Truck technicians whose ASE certification is set to expire this spring will get a reprieve through the end of the year.
National Institute for Automotive Service Excellence (ASE) on Monday announced it has automatically extended to Dec. 31 all ASE certifications set to expire June 30.
ASE certification credentials are valid for five years and have an expiration date of either June 30 or Dec. 31, depending on when the certification was earned, but with so much uncertainty currently surrounding day-to-day operations driven by the coronavirus spread, ASE President and CEO Tim Zilke said the organization didn't want service professionals "to worry about expiring ASE certifications."
Technicians unsure of when their certifications expire can visit myASE.
ASE joins a group of trucking stakeholders who are suspending hard expiration dates of licenses and certifications.
The Federal Motor Carrier Safety Administration issued a waiver last week extending commercial driver's license and commercial learner's permit validity until June 30 for those that expire on or after March 1. Permit holders will not be required to retake the general and endorsement knowledge tests if utilizing the waiver. Also waived were the requirement for drivers to have a medical exam or certification, as long as the drivers have proof of a valid medical certification that was issued for at least 90 days and expired on or after March 1.