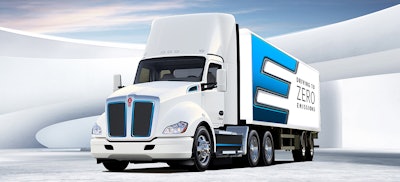 Kenworth
While some automakers are crying foul over a tax credit that favors union-built electric vehicles there may be some consolation in a bill that seeks to provide fleets with a hefty tax rebate on their commercial EV purchases.
Non-union Toyota, Honda and Tesla have all criticized a $4,500 consumer tax incentive in the Biden administration's Build Back Better Act, which applies only to union-built EVs.
The pro-union arrangement prompted Toyota this week to run a 285-word ad in major newspapers asking consumers to contact Congress in the hopes of persuading members to make the $4,500 tax incentive available for all consumer EV purchases, not just for EVs made by organized labor.
"Congress needs to put the politics aside on this one," Toyota writes in part. "Do the right thing. Treat all American autoworkers fairly. Let the American consumer choose the best electric vehicle for them without needing to pay an extra $4,500 to buy an electric vehicle not made by Ford, GM or Chrysler. And let's make fighting climate change the priority."
[Related: The heavy-haul case for electric trucks]
The refundable EV tax credit for consumers laid out in Build Back Better amounts to $12,500 for a union-produced EV. EVs not made by union workers allow for a refundable $8,000 tax credit – $500 more than the current federal EV incentive.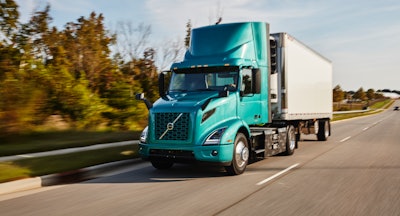 Tax rebates for buyers of electric commercial vehicles, however, could go even higher thanks to the Green Vehicle Adoption Nationwide Act of 2021, or VAN Act. The bill, introduced by Congressman Don Beyer (D-VA.), calls for tax credits of 30% for commercial EV purchases ranging from work trucks to long-haul tractors.
"The Green VAN Act would make a big dent in American emissions and help restore our leadership on the climate crisis," Beyer said in a press release. "Commercial vehicles remain a significant source of emissions and electrification in the sector lags far behind personal vehicles."
A spokesperson with Beyer's office told CCJ Wednesday that the bill has been included in Build Back Better and "may be on the floor as soon as [Thursday]." There's no requirement that qualifying commercial EVs be union-built, the spokesperson added.
That jibes with the current language in Section 136403 in Build Back Better, titled Credit for qualified commercial electric vehicles, which does not state that qualifying commercial EVs have to be produced by union auto workers.
[Related: Tesla's Musk 'hopeful Semi production begins in 2023]
That's good news for non-unionized OEMs who point out that they already stand to lose sales under the current consumer EV tax rebate plan laid out in Biden's plan.
But EV tax credits aren't for everyone. Senator Rick Scott (R-FL) said taxpayer money could be put to better use.
"Senator Rick Scott doesn't believe electric vehicle tax credits, which are disproportionately claimed by higher-income taxpayers, are an effective use of taxpayer dollars," Scott's office told CCJ. "This is just another example of Democrats' hypocrisy with their multi-trillion dollar spending package they claim will help the American people, but is really filled with liberal priorities and tax breaks for the rich, while taking no action to help Americans on low and fixed income across the nation struggling to feed their families amid rising inflation caused by reckless government spending."
Organized labor vs. the environment?
EV tax credits can also mean good news for the environment, according to Toyota, which projects greater EV sales all around so long as EV tax credits are not bound by union labor.
"What does this say to Americans who want to buy an electric vehicle to combat climate change?" Toyota states. "It says having more electric vehicles on the road is secondary to promoting unionization."
For several years, environmental groups and politicians alike have cried foul over emissions from internal combustion engines, especially from trucks, which they say perpetuates climate change and creates serious health issues on a local level, particularly in inner cities.
[Related: Solar-powered microgrid charges DHE's trucks, exceeds energy needs]
Climate and health concerns have continued to fuel a growing push for mandated EV adoption for consumers and fleets alike.
And for some environmentalists, organized labor and zero-emission EVs go hand in hand even if that means fewer EV sales for automakers who don't employ unionized workers.
"The Sierra Club has been resolute in our support of the EV tax incentive with the union provision in the Build Back Better Act, because climate action and workers' rights go hand in hand," said Katherine García, acting director of Sierra Club's Clean Transportation for All campaign.
"Congress has an opportunity right now to write a new story for American workers while tackling the nation's largest source of pollution," Garcia continued. "How we treat our workers in the transition to a clean energy economy matters. Rather than lobbying against the popular EV incentive, Toyota and other non-union automakers should take this moment as an opportunity to re-examine their own commitment to labor standards."
When asked if they'd like to respond, a Toyota spokesperson told CCJ, "Our ad speaks for itself."
Responses from other environmental groups and OEMs were not available at time the time of publication.