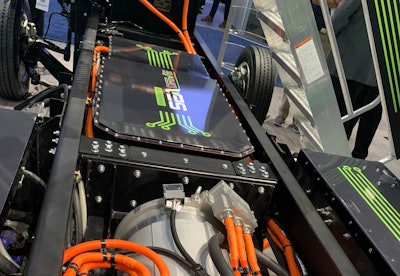 Tom Quimby
For fleets that are interested in acquiring electric trucks, I've often been told that it's best they include utilities early on in the conversation to gain a better understanding of infrastructure changes and costs as well as a timeframe for charger installation.
Not only that but utilities can help fleets understand the fundamentals of using electricity as a fuel which is less expensive than diesel and gas particularly when charging overnight when grid demand is at its lowest.
Southern California Edison has a webpage dedicated to educating businesses on EV adoption. Check it out. Their Charge Ready Transport program is geared towards medium and heavy-duty fleets while their Charge Ready Program is tailored for light-duty.
Soon SCE will offer customers submeter billing which will provide a separate invoice for EV charging. Bean counters will undoubtedly rejoice. That's more on par with traditional fuel billing and will be a welcomed change in accounting.
So while it's good advice to first turn to utilities when considering EV additions for the fleet, I'm not hearing much about the importance of becoming educated on EV batteries. That's strange since EV performance and upfront cost is tied so closely to its battery. Investment return and risk management are also key factors. In fact, it's those latter two that deserve a lot of consideration.
Investing in a battery that provides enough power to meet duty cycle demands is critical especially when other factors like freezing or hot weather and driver habits can impact range. From that standpoint, it may be best to go big with a more powerful battery if it's likely that there will be times when the truck will be operating out of its comfort zone.
[Related: Watch how EV batteries are made]
Battery liability is also worth exploring. Some fleets may not want to opt for a battery with higher energy density if its chemistry poses greater risks. OEMs like Ford, Tesla and Rivian have given the nod to lithium iron phosphate (LFP) which reduces flammability risk and is less costly than nickel manganese cobalt (NMC). Runaway thermal events in EV batteries are rare and keeping them even rarer with a safer battery chemistry just makes good sense.
Second, manage that investment well. Use AC overnight charging if possible. Battery experts have told me that this not only helps preserve battery life and maximize range but also costs much less than DC fast-charging. Battery management software can aid in helping to get the most out of your battery in terms of charging.
Next, there will come a time when that battery is no longer suitable for powertrain use. Think ahead to second-life use cases where that battery can be used for energy storage. Stationary battery banks supported by solar power can be used to help offset electricity needs in the office or be used to power other EVs in a microgrid capacity. Dependable Highway Express has been doing that the past few years in Ontario, California and has since expanded that model to other locations.
If your company wants nothing to do with that option, somebody else will which brings value to that used EV. It's also possible that the truck could still be used by another company in a less demanding duty cycle.
Eventually, there will come a time when it's time to turn to battery recycling. Granted, this will probably take place when the current fleet manager has long since retired so some aren't taking the long view on this which I think is a mistake.
[Related: Tesla Semi facing additional recall]
Most fleets are accustomed to recycling lead acid batteries. Nearly everything in a lead acid battery is recyclable including the acid and plastic used in its construction.
Lithium-ion batteries are much more complex and have more costly materials that can be recycled and reused. It's a topic that's caught the attention of the Environmental Protection Agency which encourages battery recycling on its website:
Li-ion batteries are made of materials such as cobalt, graphite and lithium which are considered critical minerals. Critical minerals are raw materials that are economically and strategically important to the U.S., have a high risk of their supply being disrupted and for which there are no easy substitutes.
Lithium-ion battery recycling is growing. Canada-based Li-Cycle, founded in 2016, continues to expand recycling facilities around the U.S. and Canada. The company announced that in 2022 its "Alabama Spoke became operational with the capacity to recycle 10,000 tonnes (11,023 U.S. tons) of lithium-ion batteries per year."
Li-Cycle also has recycling capacity in New York, Arizona and Ontario, Canada with new locations coming for Rochester, New York; Germany and Norway. Li-Cycle reports on its website that it's "producing recycled battery grade materials to help create local, closed-loop supply chains."
As recycling efficiency increases for lithium-ion batteries so will opportunities for fleets. However, some fleets may not want to tackle battery lifecycle management. In that case, they may want to lean on EVs as a service where another company handles charging and EV management. Learn more about that here. In any event, an awful lot hinges on battery spec'ing and battery lifecycle management. It's a topic that definitely demands more attention.