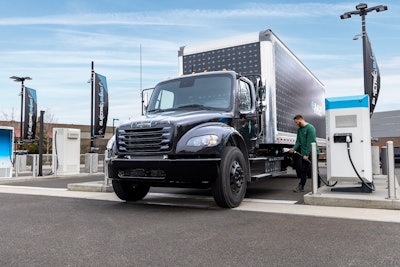 Cummins' Accelera zero-emissions business unit is partnering with Daimler Trucks & Buses U.S. Holding and Paccar to accelerate and bring battery cell production and the battery supply chain to the U.S., the companies announced Wednesday.
Total investment is expected to be upwards of $3 billion for a 21-gigawatt hour (GWh) factory. A Cummins spokesperson told CCJ Wednesday morning that a site has not yet been selected, but the group hopes to have that done by early next year with production starting in 2027.
Jamie Fox, Principal Analyst at Interact Analysis, noted that a 21 GWh "is a very big number in the context of trucks and buses. A 21 GWh plant operating at full capacity in 2026 would provide enough batteries for the entire North American market for all battery electric buses and medium and heavy duty trucks combined, assuming about 10% of trucks are electric in that year," he said. "A 21 GWh plant in 2028 would amount to around a 40% share of all electric buses and medium and heavy trucks – assuming 22% of trucks are electric in that year. However the share would be much lower if light-duty trucks are included in the target markets, or the plant also targets international markets beyond North America."
Accelera by Cummins, Daimler Truck and Paccar will each own 30% of, and jointly control, the joint venture, which will initially focus on the lithium-iron-phosphate (LFP) battery technology family for commercial battery-electric trucks. EVE Energy, a global leader in the manufacture of LFP battery cells for the vehicle industry, will serve as the technology partner in the joint venture with 10% ownership and will contribute its battery cell design and manufacturing know-how.
"We have the responsibility to decarbonize in a way that is best for all of our stakeholders and the planet. This requires working closely with key partners. Today's announcement reflects that action," said Cummins Chair and Chief Executive Officer Jennifer Rumsey. "Not only are we advancing a key technology solution for our customers, but accelerating the energy transition in the United States."
The group expects LFP battery cells produced by the joint venture to offer several advantages compared to other battery chemistries, including lower cost, longer life, and enhanced safety, without the need for nickel and cobalt raw materials.
"Our vision is the highest quality, locally produced battery technology to enhance the operations of our customers and help them achieve their operational and environmental goals," said Paccar Chief Executive Officer Preston Feight.
Daimler Truck CEO Martin Daum noted the partnership, which ties together three legacy truck and engine manufacturing giants, is a case of the whole being greater than the sum of its parts.
"For Daimler Truck, partnerships and a strict focus on costs and smart capital allocation are the key levers to succeed on the path towards sustainable transportation. This planned joint venture enables economies of scale beyond Daimler Truck," he said. "It is a key puzzle piece of our battery industrialization strategy, ensuring access to the right battery cell technology at the right cost."