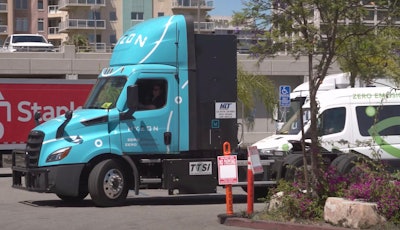 A recent report from the North American Council for Freight Efficiency (NACFE) declared hydrogen the likely zero-emissions winner for long haul fleets, but China continues to surpass the U.S. in terms of commercial fuel cell adoption, leaving experts to wonder if the U.S. has much of a chance of catching up.
A recent report published by U.K.-based international market research group Interact Analysis shows China with just under 5,000 commercial fuel cell vehicle sales for 2022. In February alone, an additional 127 fuel cell buses and trucks made their way to Chinese roadways. The trend has long favored fuel cell truck adoption.
"According to our data tracker, of fuel cell commercial vehicles sold between 2017 and 2022, trucks made up for 59% of total registrations in China, higher than that of buses," Interact Analysis principal analyst Shirly Zhu told Commercial Carrier Journal.
[Related: Bill reintroduced to expand hydrogen infrastructure]
China's lead on commercial fuel cell adoption is far ahead of the U.S. according to CALSTART, a national non-profit based in California that supports both public and private clean transportation initiatives across the country.
CALSTART's recent white paper titled "Roadmap to Fuel Cell Electric Truck Commercialization" reports that only 84 Class 7 and 8 fuel cell and all-electric trucks have been deployed in the U.S. as of last month.
The report contends that lack of fuel cell adoption in the U.S. is a three-way challenge between fleets, hydrogen fueling providers and OEMs.
"Fleet owners are hesitant to purchase FCETs [fuel cell electric trucks] until hydrogen fueling infrastructure is in place, yet hydrogen infrastructure providers will not move the needle to invest with so few deployments to date," the report states. "At the same time, truck manufacturers are hesitant to commit to developing commercial FCET products without some degree of certainty that public hydrogen infrastructure will be developed in parallel and that the price of hydrogen will come down with scale."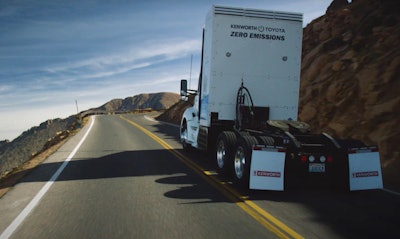 The success of fuel cell truck adoption has long been tied to hydrogen station availability. The U.S. currently has 57 hydrogen stations according to the Department of Energy while China has nearly four times that amount.
"As of the end of 2022, China had about 200 HRSs [hydrogen refueling stations] in operation. Most of the new stations established recently have refueling capacity of over 1000kg H2 per day," said Interact Analysis research analyst Marco Wang. "The HRS construction is mainly conducted by state-owned big energy companies like Sinopec. HRS projects are eligible for huge government subsidies."
[Related: Cummins CEO sees future without internal combustion]
Hydrogen station expansion in China is on track to expand at least five-fold in the next two years, giving China another advantage with fuel cell adoption.
"Both the government (central, provincial and municipal) and state-owned giants have released clear strategic plans for the construction of more stations," Wang said. "Sinopec has now installed 90 H2 stations and has announced a plan of 1000 HRSs in the next two years. It gives infrastructure guarantee for increasing FCEV [fuel cell electric vehicle] adoption in the future."
Given the massive state support for commercial fuel cell rollouts in China, Interact Analysis believes at this point that the odds are pretty tough that the U.S. will be pulling ahead anytime soon.
"It may be difficult for the U.S. to catch up to China's level on fuel cell, and the most likely is China remains ahead due to insufficient federal and local government planning and support in the U.S. and insufficient infrastructure. However, incentives in the Inflation Reduction Act may change things somewhat," said Jamie Fox, principal analyst at Interact Analysis.
Toyota, which enjoyed the greatest commercial vehicle fuel cell market share in China in February, said that hydrogen station development is critical for fuel cell adoption.
"To support the growth of hydrogen mobility, infrastructure is critical to ensuring the customer has a safe, convenient, reliable, high quality, low cost fueling experience," said Toyota spokesperson Josh Burns. "However, in the U.S. hydrogen refueling stations are primarily limited to locations on the West Coast, such as California, where they are on target to have 100 hydrogen stations by the end of 2023."
Bill Elrick, executive director at Hydrogen Fuel Cell Partnership, a California-based public-private non-profit that promotes hydrogen vehicle use across the U.S., said it's really too early to call winners in the early stages of commercial fuel cell adoption particularly as the Inflation Reduction Act (IRA) gears up to fund both hydrogen station and fuel cell deployment in the U.S.
"The hydrogen and FCV [fuel cell vehicle] market is very dynamic, especially the past few years, and it is not realistic to say anyone is really ahead or behind, i.e., they may be ahead in one aspect or another at any given time," Elrick said. "All of the global markets can likely claim to be 'ahead' somehow at any moment, yet tomorrow that may shift again; the EU region looked ahead a few years ago with national H2 plans, then the U.S. with IRA, China quietly doing its thing, etc."
Elrick said the impact of the Inflation Reduction Act on fuel cell vehicle development goes beyond the U.S.
"EU stakeholders made recent announcements on plans and strategies in response to the hydrogen production tax credits in the IRA and more," he said. "Who knows who will be the next leader. The IRA is definitely something the world is noticing and, along with the hydrogen hub efforts, has definitely placed the U.S. squarely in the contender seat."