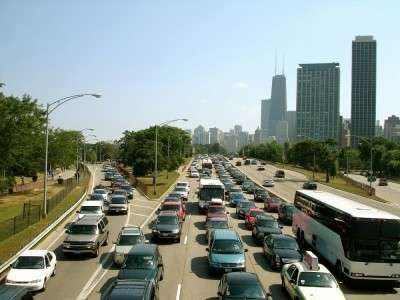 Responding to one of the first major directives of the Obama Administration, the U.S. Department of Transportation and the U.S. Environmental Protection Agency on Thursday, April 1, jointly established new federal rules that set the first-ever national greenhouse gas emissions standards and will increase the fuel economy of all new passenger cars and light trucks sold in the United States.
"These historic new standards set ambitious, but achievable, fuel economy requirements for the automotive industry that will also encourage new and emerging technologies," says U.S. Transportation Secretary Ray LaHood. "We will be helping American motorists save money at the pump, while putting less pollution in the air."
The rules potentially could save the average buyer of a 2016 model-year car $3,000 over the life of the vehicle and, nationally, will conserve about 1.8 billion barrels of oil and reduce nearly a billion tons of greenhouse gas emissions over the lives of the vehicles covered.
"This is a significant step toward cleaner air and energy efficiency, and an important example of how our economic and environmental priorities go hand-in-hand," says EPA Administrator Lisa P. Jackson. "By working together with industry and capitalizing on our capacity for innovation, we've developed a clean cars program that is a win for automakers and drivers, a win for innovators and entrepreneurs, and a win for our planet."
DOT and EPA received more than 130,000 public comments on the September 2009 proposed rules, with overwhelming support for the strong national policy. Manufacturers will be able to build a single light-duty national fleet that satisfies all federal requirements as well as the standards of California and other states. The collaboration of federal agencies also allows for clearer rules for all automakers, instead of three standards (DOT, EPA and a state standard).
The final rules, issued by DOT's National Highway Traffic Safety Administration and EPA, establish increasingly stringent fuel economy standards under NHTSA's Corporate Average Fuel Economy program and greenhouse gas emissions standards under the Clean Air Act for 2012 through 2016 model-year vehicles.
Starting with 2012 model-year vehicles, the rules together require automakers to improve fleetwide fuel economy and reduce fleetwide greenhouse gas emissions by about 5 percent every year. NHTSA has established fuel economy standards that strengthen each year, reaching an estimated 34.1 mpg for the combined industrywide fleet for model-year 2016.
Because credits for air-conditioning improvements can be used to meet the EPA standards, but not the NHTSA standards, the EPA standards require that by the 2016 model year, manufacturers must achieve a combined average vehicle emissions level of 250 grams of carbon dioxide per mile. The EPA standard would be equivalent to 35.5 miles per gallon if all reductions came from fuel economy improvements.
Specifically, the new National Program:
• Reduces carbon dioxide emissions by about 960 million metric tons over the lifetime of the vehicles regulated, equivalent to taking 50 million cars and light trucks off the road in 2030;
• Conserves about 1.8 billion barrels of oil over the lifetime of the vehicles regulated; and
• Enables the average car buyer of a 2016 model-year vehicle to enjoy a net savings of $3,000 over the lifetime of the vehicle, as upfront technology costs are offset by lower fuel costs.
"We are delivering on our mission and President Obama's call for a strong and coordinated national policy for fuel economy and greenhouse gas emissions standards for motor vehicles, and we will do so in a way that does not compromise safety," says NHTSA Administrator David Strickland.
The joint final regulation achieves the goal set by Obama to develop a national program to establish federal standards that meet the needs of the states and the nation as a whole to conserve energy and reduce greenhouse gas emissions. Obama first announced the effort last May with a broad coalition of automakers, the United Auto Workers, states and the environmental community.
NHTSA and EPA expect automobile manufacturers will meet these standards by more widespread adoption of conventional technologies that already are in commercial use, such as more efficient engines, transmissions, tires, aerodynamics and materials, as well as improvements in air conditioning systems. Although the standards can be met with conventional technologies, EPA and NHTSA also expect that some manufacturers may choose to pursue more advanced fuel-saving technologies like hybrid vehicles, clean diesel engines, plug-in hybrid electric vehicles and electric vehicles.
In conjunction with the United States, Canada also announced Light Duty Vehicle GHG-Emissions regulations. EPA and NHTSA have worked closely with Environment Canada to ensure a common North American approach.